Nedra, this is for you
By Minoli de Soysa
Friends of this well-known theatre personality have come together to present her writings in an evening of readings, song and dance
View(s):
Nedra Vittachi is a woman of many parts – playwright, director, songwriter, journalist and poet. For decades she was prominent on Colombo's art scene with widely-acclaimed plays such as Smart Ass and Knots, wry studies of middle-class love, sex and marriage and What a Marriage, a lively and amusing 'Singlish'-based social comedy.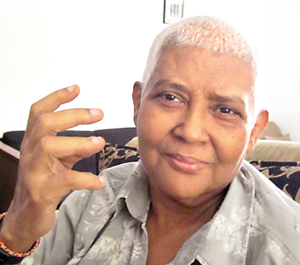 Nedra's musicals Pasteboard Crown, Whizz Kid and Poppy parodied social issues in songs and lyrics that were her own compositions. She was part of the start of a satiric trend in Sri Lankan drama that continues to the present day.
Nedra is cited in the World Encyclopedia of Contemporary Theatre, the Journal of Commonwealth Literature and Modern Sri Lanka Drama as being an original force in Sri Lanka's theatre world.
As a journalist she worked as a writer and sub-editor at the Daily News and was responsible for educating and entertaining children as Aunty Vitta in the children's page.
To celebrate Nedra's work and her contribution to the theatre world, some of her friends have organised a show to be held at the Punchi Theatre in Borella on Saturday, December 22. The evening will include a selection of poetry from her book 'Broken Wings and Painted Lips' and songs from her original musicals, some of which will feature choreographed dances. The readers and performers include Indu Dharmasena, Natalie Soyza, Sean Amarasekera and Menik Jayewardene. The show will be compered by Arun Dias Bandaranaike.
Not only a literary talent, Nedra, or Vitta as she is fondly known, in her heyday was a stalwart at the Lionel Wendt's Art Centre Club. She could be found there most nights, perched on her barstool with a glass of beer, often surrounded by glamorous girls and somewhat envious men. Early in the evening, she could be seen penning poetry at the bar counter. As the night waned, she would delight friends and admirers with her unique creations. In her early days she would deftly guide her motorbike around Colombo, usually with one of her admirers on the pillion. She then graduated to a car, which latterly had the uncanny ability to find its own way home.
Unfortunately dogged by ill health now and not very mobile, Vitta still attends the monthly poetry reading gatherings 'Poetry Pilau' and spends her time regaling old friends with anecdotes and gossip. Determined to improve, she takes daily walks up and down the road and does exercises to strengthen her limbs. She is devotedly looked after by the domestic staff and nurses at her home in Colpetty. Food is her main joy and she fights loud battles over the menu with the guardians entrusted with keeping her ticking along.
If you want to see the show, please drop in at the Hansa Coffee Shop at Fife Road or Barefoot to pick up the flyers.
Self Pity in April
April is a wicked month,
To make matters worse it was the time of the cuckoo bird,
Each despairing wail gave momentum to my engulfing loneliness,
Reaching the corners of my solitary soul,
Friends had fled to family nooks,
Some professing to be friends had abandoned me for new acquaintance,
Family remote now after a few encounters with my new found liquid company,
No new lovers in sight as I grew fat and grey,
And quite unable to sustain a sparkling conversation,
The heat crept in like mildew,
Seemingly scorching everything in sight,
Ironically, even my search for warmth got lost in the lacklustre dust,
Old lovers fled after a stalemate date,
As I tried in earnest to recapture the lofty things,
That made me date them in the first place,
Another screech from the cussed creature,
He was getting closer to my bedroom window,
As I tightly shut my pillow on my ear,
And yearned for June.
Nedra Vittachi
Follow @timesonlinelk
comments powered by

Disqus