Being fruitful, being forgetful: Two parables of life this season
View(s):

In the midst of life, we are in death. To see the world in a grain of sand, eternity in an hour, is not the blessing of the idle rich or the idle poor. We, the busy middle classes, are far too enamoured of getting and spending to take the real business of living seriously. So here – for those who have no time for sermons on the Season, or diatribes on how not to spend December – are two original stories. Or rather, a story in parable form… and its elaboration, as an annotated tale…

Being fruitful

A young woman says to her betrothed: "Let us have a child." But being in the world, of the flesh, and from the devil, the husband replies: "Let us wait." She senses that the form of this world is passing away, and presses her need with urgency. "When?" she asks. "Not now, next year." Knowing that the spirit is willing but the flesh weak, she insists on a surety. "How will I know you will keep your word?" With diabolical inspiration, he disassembles: "You know I love you." She is adamant: "Do you promise?" He surrenders: "Yes."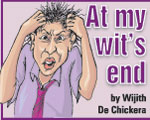 A season comes, a season goes. Time, like an overbearing stream, takes all her promising sons away. When she has buried her first husband, the mother-to-be seeks a new love to be her child's father. "Will you love him like your own?" He is hard: "No." And honest, but insistent: "Let us get rid of it." She is torn between two loves – that of an unborn child with great promise; and a potential living death if she disobeys her lover's will and pleasure. "Let us not wait." But they do.
A season comes, a season goes. We fly – forgotten – as a dream dies at the dawn of day. When the hard man has buried his first wife, the father-by-default sees a new hope. The light of joy in his not-quite-daughter's eye at being alive is a vast marvel. Before he can start to think, she grows up and begins to feel the absence of the womb that bore her. She is adamant that he marry again: "Let us look for a mother." But the rich man's second wife has other children, other lovers: clothes, shoes, luxuries. The only child hurts. "Do you also desire these?" He is divided. "Maybe."
For the price of the precious things in life is paid for by one's step-children.
Being forgetful
Every time the middle-aged man says, "Not now, next year", something in his bride-to-be dies. Each time the husband-in-waiting plays his waiting game, he gains a little more time in which to do nothing. But his soul is being eaten alive by the world, the flesh, and the devil. Also his spirit. No doubt he loves her; so that disassembling "I love you" is not a complete lie – but it is not the whole truth: for he loves the things in existence more than the people in his life. The one person to whom he can, must, could, should, and does give his word cannot count on him keeping it.
Every good thing comes to she who waits. She who waited for true love from her first love waited in vain. He was in love with power, position, privilege. She had to wait for it beyond his death. But when her love came, it came at the cost of pride, identity, and responsibility to be the best she could be. A man cannot serve two masters; a woman cannot serve one – if he is cold and cruel and clutching and calculating. One must be careful for what one wishes when one prays. Capricious deities like fate and karma and kismet and destiny do not hear very well.
Every prospect pleases the tired sick old man but living on like this. There is the one consolation of the daughter he did not beget: the child he inherited from the one woman he learned to love too little, too late. By now he has forgotten her – even when tries to remember he cannot summon her spirit. True, he is rich beyond his new wife's desires; but no wealth in the world can buy his child her happiness. He is a slave to someone else's dreams, and she lives in a parallel universe.
For either other each desires, but is powerless to reach. Life, as the musical poet mentioned in an unguarded moment, is what happens when we are planning to do something else. This is that lesson in prosaic form. Hope your season is more fully filled with people and relationships; and that things and issues will take a back seat for once in our lives.
Follow @timesonlinelk
comments powered by

Disqus