Building bridges creatively
Shyam Selvadurai discusses his Write to Reconcile Project with Smriti Daniel
View(s):
Shyam Selvadurai first began to think of the Write to Reconcile project when he was still curator of the Galle Literary Festival. The award-winning author of three novels, Shyam says the part of the Festival he most enjoyed was taking the children's author and story teller Jeeva Ragunath down to Jaffna. As curator, Shyam was also proud of launching the North South University Collaboration that had students from across the island gathering at the Festival to experience it in each other's company.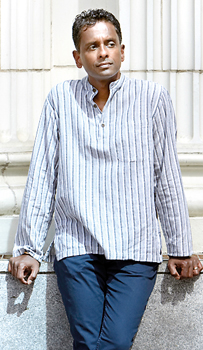 "Meeting the students who participated in this event was also inspiring and it made me want to take a programme like that to another level of even deeper engagement," Shyam told the Sunday Times in an email. "I wanted to use creative writing as a medium to build bridges."
Now, in collaboration with the National Peace Council, Shyam is inviting new and emerging writers between the ages of 18-29 to apply for the Write to Reconcile project. It will take place between February and June next year and culminate in the publication of the participants' work in an anthology. Open to Sri Lankan nationals, to holders of dual citizenships as well as to all secondary school and university teachers, the focus will be on generating creative pieces (fiction, memoir or poetry) inspired by the issues of conflict, peace, reconciliation and memory, as they relate to Sri Lanka.
Shyam, who has previously taught creative writing in Canada at York University and the University of Toronto, says he wanted to do more than just request submissions not only because he believes in the value of the mentoring process but also because he wanted to create a community of like-minded writers, who could support and critique each other's work. "I want them to be peer-mentors to each other," says Shyam. "My hope is that they will take their skills out with them into the world and share them with other writers."
Only 24 applicants will make the cut. According to the organisers, talent will be one of the selection criteria but emphasis will also be given to the representation of ethnicity, culture and disability among participants and the inclusion of participants from underprivileged backgrounds. An equal number of women and men will be selected to participate in the project.
During the two four-day residential workshops, which will take place in Colombo and Jaffna respectively, participants will generate creative work and learn the tools and techniques of writing and editing. "The purpose of having the residential workshops in Colombo and Jaffna is because they represent two very different aspects of Sri Lankan culture," explains Shyam, adding, "I really love Jaffna, the landscape, the elegance of its people, and I wanted to share that love with the workshop participants as well."
Through the process, Shyam wants his protégés "to understand that that their writing takes place in a broader context and that this broader context feeds artistic work," hence screening of films, visits by local artists and cultural tours of Colombo and Jaffna are all part of the programme. The work of honing and developing their writing skills will take place further in the online forums. Each participant will work one-on-one with Shyam to prepare a creative piece for publication.
Speaking about the National Peace Council's participation in the project, Dr. Jehan Perera, the Executive Director, said, "NPC is very happy to be associated with Shyam Selvadurai in implementing this project. So far much of our work has focused on creating awareness and promoting dialogue on issues of reconciliation and political transformation. In this project we hope to capture the response of writers from different communities to the realities they face and their ideas on reconciliation."
Write to Reconcile is sponsored by the Royal Norwegian Embassy. For more information on the project and how to apply, go to www.writetoreconcile.com. or email them for an application at writetoreconcile@gmail.com. The deadline to submit an application is December 30.
Follow @timesonlinelk
comments powered by

Disqus