Appreciations
View(s):

Teacher who made history at Ananda College

E. D. NIMALARATNE

Embulgamage Don Nimalaratne of Iridapola, Tunmodara died on September 10, 2012, aged 68.
He was educated at Sri Ratanasara Vidyalaya, Waga and Sri Rajasinghe Central College, Hanwella.
After completing his A/Levels, he joined the staff of Sivali Central College, Ratnapura where he taught for a year. He then entered the Maharagama Training College, where he qualified as a mathematics teacher.
He taught at Vidhyaraja Maha Vidyalaya, Tavalama for two years before joining the staff of Ananda College, Colombo in 1970.

At the time, I too was on the staff. He taught at the school till 1992, and then went to serve in his home area. He taught at the Boralugoda Vidyalaya Kahahena and St. John's College, Kaluaggala.

To start with, I will quote one of his students. This student passed his degree in Sri Lanka with a first class and did his Master's and Ph.D in the US. His father, a colleague of mine, asked his son to name his best teacher. The son said all his teachers were very good, but Nimalaratne stood out.

Nimalaratne was indeed a brilliant teacher. He created history at Ananda College in 1979 when 52 of his O/Level class of 53 students passed with distinctions in Mathematics, while the 53rd student earned a credit. That feat alone reflects his capabilities as a teacher. The students adored him, and he was an asset to the institution.

Nimalaratne maintained a cordial relationship with his fellow teachers. After leaving Ananda, he invited us to spend a day with him. A large group of friends made our way to Tunmodara. We visited Kalatuwewa, had a dip in the crystal-clear waters of a stream in the vicinity, and spent a memorable day enjoying Nimalaratne's warm hospitality.

A few year ago he had a stroke, and in his last years he was on medication, his health deteriorating. His students and friends were as close to him as ever. With apologies to the others, I must mention two of his students. Sumith Gomes, who lives in Japan, made it a point to visit his teacher every time he came to Sri Lanka, and Ajith Gunatilake, who lives in Australia, asked his father to visit his teacher at regular intervals on his behalf.

The Ananda College Past Teachers' Association and the Old Anandians' 82 Group stood by him during his difficult times.

S. G. Dharmasena

Compassionate doc who spread joy among everyone

DR. C. S. P. (SAM) JAYAWARDENA

A year has passed since the demise of Dr. C. S. P. Jayawardena (fondly known as Sam) of Colombo 5.
Sam, who died at the age of 84 after a brief hospital stay, was a compassionate doctor of medicine. His father was Dr. Charles Jayawardene of Gampaha, and his mother Nanda of Hancha Pola. Sam distinguished himself academically at Royal College before entering the Colombo Medical College. In 1957, he married Soma, daughter of famous Ayurvedic physician K. D. C. Jayathilleke, of Kiriwaththuduwa, and teacher Eugine Rodrigo.

He was attached to the Government Health Department for a number of years, serving hospitals island-wide. In 1964 he went to England for one year of postgraduate studies. From government service, he joined the Colombo Municipality and served in several clinics in the city as the MO. Alone, he treated some 200 patients a day. He was a good friend of the common man.

He was quick to diagnose a patient's condition. If he felt the patient required treatment beyond his medical capability, he would promptly refer the patient to a specialist doctor. His patients admired him for his integrity and honesty. After he retired, Sam continued to serve the community through his private clinic in Colombo 5. He was the accredited medical officer of the Ministry of Defence in Oman, from 1984 to 1988, making fitness assessments of Sri Lankans going to Oman to work.

He was a keen nature lover, bird watcher and photographer. His knowledge of birds, wildlife, and photography was unmatchable. He was also a collector of coins.

We were good friends as we had many common interests, especially the Royal Sports. He was my family doctor and mentor. I am proud to place on record that I visited specialist doctors on only a very few occasions, and that too at the behest of Sam, who advised and guided me in healthy living.
With his humour and gentle ways, he spread joy and happiness among his friends, colleagues, home workers and family. He leaves behind his wife, two sons, two daughters, and two grandchildren.

May Sam attain Nibbana.

Ariyasumithra Wijeyaratne

In memory of a lover of birds and animals

P. RATANASINGAM

Remembering him on his birthday, December 9–
He was a lover of animals & birds;
Once he made two cages and bought some quails;
He fed them & looked after them;
They laid eggs & in time the progeny increased.
The little ones of his kith & kin relished the
Hard-boiled quail eggs.
One day a quail escaped & flew high up
In the sky, never to return.

Then one day he came with four ducks –
He nurtured them with care;
At dusk he'd lock them up in a little room;
One morning, to his dismay he found one dead;
A predator had entered through the fan-window
And slit its neck. There was no restitution;
He sadly resigned to it.

Once again eggs were set to hatch;
At the appointed time out came the ducklings
One by one, fluffy & simply adorable;
He would lead them & they would follow,
A dozen or more;
Like a shepherd ahead of the flock,
He had no staff or rod, but not one went astray;
To watch them was a delight.

The craving was insatiable;
He came with a stately regal rooster & his harem;
Oft we watched the cockerel make
That particular call, the hens would run to it,
He would point to the food & reverse;
A thorough gentleman, caring & sharing.
Alas! One afternoon the cockerel was missing
The hens were dazed & frightened;
Some light-fingered human had
Disappeared with the bird.

"For everything there's a season…
A time to get & a time to lose,"
A time to rejoice & a time to be sad.

P. Vijaya

He  dedicated his life to quality education

NIMAL SAPARAMADU

It is with great gratitude that I write this message on the occasion of the second year remembrance of our OKI International School founder and managing director, Mr. Nimal Saparamadu. He was born on January 8, 1955. Fifty-five years later, on the night of December 15, 2010, his golden heart stopped beating, filling our hearts with sadness.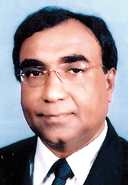 Nimal was a loving brother, dear relative, obedient student, faithful friend, beloved husband, loving father and father-in-law, and loving grandfather. He was also a professional, teacher, counsellor and advisor. He dedicated his entire life for the sake of quality education.
Though a humble beginner, he was a visionary. He was a diligent teacher, an organiser, mediator, idealist and provider. His simple lifestyle was the key to his success. Supported by his beloved wife, the school's present chairperson, Mrs. Nirmalee Saparamadu, he was a role model of human values and virtues.
Mr. Saparamadu earned the goodwill of all his colleagues and subordinates through warmth, kindness and enthusiasm to promote quality education with his mild manners and disciplined approach in all situations.
Age is measured in the wealth of good deeds. Nimal Saparamadu achieved his mission and vision with courage and determination during a short lifespan of 55 years.
You led an exemplary and noble life.
May your soul rest in eternal peace.
Ivor Hapuarachchi, Principal, OKI Kandana Branch
Devout Buddhist, extraordinary husband and father, and man of the people
WIJAYAPALA MENDIS
It is with much sadness that I write this appreciation in memory of my brother- in-law, the late Wijayapala Mendis, with whom I shared a close and dear friendship even before joining the family by marrying his sister-in-law Chandra, more than 42 years ago.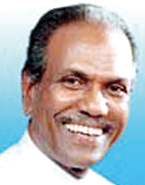 Wijayapala Mendis was born on December 16, 1928, the third child of Mudliyar David Mendis, bus magnate and former Mayor of Negombo, and Magilin. A unique personality, Wijayapala nurtured his loving and closely bonded family, served his motherland, and had a successful carreer in politics. He was a devout Buddhist and illuminated his life with the teachings of the Buddha. His generosity to the Buddha Sasana and contributions for the advancement of Theravada Buddhism will spread the radiance of the Dhamma far and wide in the years to come.
Wijayapala Mendis started his political career at the tender age of 19, when he was still a student, at Maris Stella College, Negombo. He joined the United National Party (UNP) Youth League of Negombo, under the leadership of D. S. Senanayake, the first Prime Minister of Ceylon. As a young man contesting the Negombo Municipality Council in 1954, Wijayapala Mendis demonstrated his outstanding organisational skills and exceptional promise. He was elected Mayor of Negombo at the age of 24, and was among the youngest mayors in the world at the time. Six years later he entered Parliament, having contested and won the newly formed Katana electorate as a UNP candidate. He won the hearts of the people of his constituency. The people's choice of Wijayapala Mendis showed their faith and trust in an open-minded leader who respected all religions and minorities.
His political ascent continued when he became a Senior Minister in the government of the late President J. R. Jayewardene. He held the portfolio of Textile Industries and later of Transport and Highways and of State. As a senior Member of Parliament, he held such esteemed positions as Chief Opposition Whip and Leader of the House. During the 2010 Presidential Elections, after many disheartening experiences, he became a firm supporter of President Mahinda Rajapaksa, and remained so until his demise.
His political career never came in the way of the love and attention he gave his family. His wife Nanda, daughter of Mr. Nomis de Silva, founder of the Ebert Silva Bus Company, was blessed indeed to have such a caring, loving and dutiful husband. They were together for 59 long years and were an exemplary couple to family and friends. Their faith, love and devotion to each other only strengthened with time.
He gave of his abundant love to his four children Manori, Davindra, Dilupa and Nadika. The tragic loss of his only son, Davindra, brought great sadness to the close-knit family. He drew courage to face this tragedy from his deep knowledge of the Buddha Dhamma. His profound understanding of Buddhist philosophy gave him the strength to console his grieving family.
He was an unfailing pillar of strength and comfort and solace in their hour of need. He was a loving and adorable grandfather and a role model to his grandchildren Sandika, Usij, Malin, Thavisha, Ushita and Punita.
Throughout his life he was deeply involved in Buddhist activities. His gave large extents of land to Buddhist temples such as the Senanayake Pirivena in Perissala. With his donations, the Senanayake Maha Pirivena today trains and guides young Samaneras to spread the message of the Buddha around the world.
He donated the Nugawela Estate to the Abesekaramaya in Negombo to build a Centre for Meditation. His sole wish was to donate the splendid residence he built and lived in all his life, and the land with it, to the Sasana. He had a vision to establish an International Theravada Buddhist Cultural Centre. His dream has become a reality today, thanks to his loving wife and children who have bequeathed the property to the Senanayake Pirivena.
May Wijayapala Mendis attain the Supreme Bliss of Nibbana.
Sarath Wimalaratne (Brother-in-law)
Follow @timesonlinelk
comments powered by

Disqus