Top of the 'Pops' on the Net
View(s):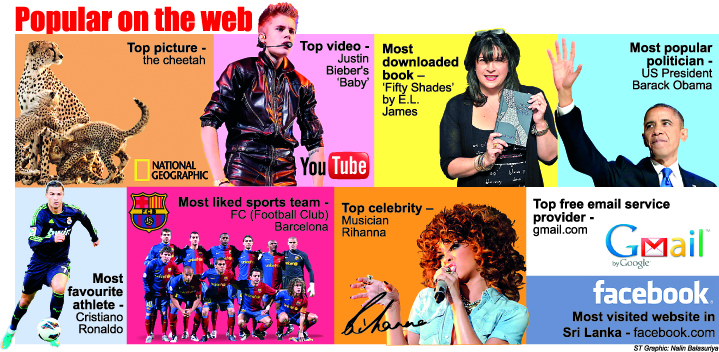 While the Internet is often a vast and lonely place, it is also a venue where Net-izens (web citizens) sometimes come together to participate in communal activities. Visiting a common website, sharing a laugh over a funny video, idolising a celebrity, politician or sports star, commenting on a brand or football match, etc. It is also a place where a lot of free services can be accessed as well as gossip shared. The following are just a few of the wonders of the World Wide Web:
Top picture download of all time is, according to the most recent issue of National Geographic magazine, the cheetah -The fastest land mammal known to man.
Top video download is Justin Bieber's first music video "Baby", with its close to 800 million views, according to technology blog readwrite.com, while PSY comes in second with "Gangnam Style", which has earned a remarkable 650 million views. But please note that Bieber's video has held that position since January 2011, while PSY has climbed to second in just a few months. Is there a possible coup in the works?
However, web portal cnet.com states otherwise. It indicates that PSY's video was actually viewed 243 million times, with it also receiving the most "likes" ever on YouTube, 2.2 million. A statistic allegedly verified by Guinness World Records. The truth? You decide!
Meanwhile, examiners.com indicates that erotic novel series "Fifty Shades" by E.L. James has become the most downloaded electronic book series ever, already surpassing J.K. Rowling's Harry Potter series, with each book in this trilogy having spent in excess of 30 weeks on the New York Times Bestsellers List which represents combined print and electronic book sales.
Additionally, according to social media directory fanpagelist.com, the most popular politician online is re-elected US President Barack Obama, due to his 33.5 million Facebook fans and 23.6 million Twitter followers. US Presidential election contender Mitt Romney came in second in this race too, with a very distant 11.9 million Facebook fans and 1.7 million Twitter followers. The only international politician within the top 10 names of this list was Queen Rania of Jordan, who was ranked seventh.
At the same time, the top fan favourite athletes, again according to fanpagelist.com, were, unsurprisingly, footballers Cristiano Ronaldo, Lionel Messi and David Beckham, in that order, while the top three most liked sports teams were FC (Football Club) Barcelona, Real Madrid and Manchester United, respectively. No shock there.
Musician Rihanna, Eminem and Shakira, respectively, rounded out the top three celebrities with the most fans according to fanpagelist.com, with Lady Gaga and Michael Jackson just missing out in fourth and fifth places. Footballer Cristiano Ronaldo came in sixth.
Top free email service honours goes to gmail.com according to a reader survey by about.com. In order of votes, gmail.com (38 per cent), mail.com (32 per cent), mail.yahoo.com (16 per cent), hotmail.com (8 per cent), etc.
And, finally, for something a little closer to home, the most visited website in Sri Lanka appears to be facebook.com, according to online traffic tracking guru alexa.com. A trend we share with many countries, despite google.com still being ranked number one globally. Interestingly, while google.lk, google.com and youtube.com are ranked second, third and fourth, respectively, the real surprise is the top most ranked homegrown website, gossiplankanews.com. This site is ranked seventh within Sri Lanka's top 10.
(Jagdish)
Follow @timesonlinelk
comments powered by

Disqus