We don't like cricket and country, we love them…
View(s):

Chances are that by the time you read this, Cricket T20 World Cup would have come to a climactic end – or finished in some anticlimax that is often par for the course in this game of glorious uncertainties. Should Sri Lanka have featured in this Sunday's finals (at the time of writing, they had only just booked a berth at Thursday's first semi-final), AND WON – well, then… suffice it to say that celebrations would abound island-wide, across all divisions and divides, and our joy will be complete for a while at least.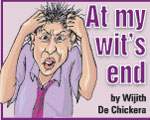 Even if we did drop out along the way, though, there will always be those who may sing or simply say: "We don't like cricket – we love it!" Let us hope that some day, somehow, soon, the same will be chorused and stated with pride about our country by ALL and sundry.
Cynicism, however, has become something of a spoiler in the two sports (cricket- and country-bashing). Critics abound in both forms of the game. Conspiracy theories raise their ugly heads over cricket and country alike. Carp, we can, as we so often do, when a sitting-duck catch is dropped or a stupid change in batting order is made or some unexpected twist turns the result; and then we see the spectre of bookmakers and match-fixers at every slip or silly point.
Cavil, we will, although we don't all do it, when a worldly monitor raps our knuckles, or a local watchdog slaps our wrist, or some poor soul slips out to sea in a coracle seeking the pot of gold at the end of a rainbow down under; to all of which we respond that the usual suspect – a vast and growing international conspiracy from the north pole to land's end – is responsible for our plight.
Could it be that just because we're paranoid, it doesn't mean that people aren't out to get us after all? Someone suggested that in a perverse generation like ours, being paranoid is to play it safe! Even if such a suspicious worldview generally robs both the gentlemen's (and gentlewomen's) game as well as our national image of their glory, there is often more to muckraking than meets the eye.
Let us not forget too soon the dark cloud that still hangs over an erstwhile Cricket World Cup, lest such an ignominy be foisted on us ever again – and we walk away mute, eyes glazed and lips sealed, comforting ourselves that this too shall pass, and that least said soonest mended so that we can all carry on as if nothing is wrong, nothing ever happened that shouldn't have, and anyway never mind all that now. (Did someone mention the late great war and the little implemented LLRC?)
Perhaps there is a way to put us all out of our misery as far as mistakes made go, so that thus far no farther shall be our motto. On the cricket front, the national team and its directorship including management down to the junior-executive level could do an internal audit of sorts, investigate allegations of misdemeanour and weed out the bad 'uns; and then sign the type of public declaration that vows to be clean, stay clean, and go clean for ever after – which is to say, until the next big fixture (another International Premier League).
On the country front, the national team and its leadership including mandarins down to the joker-enforcer level should conduct an external inquiry, examine the private motivations and personal agendas of the big guns, and then seal the "we-will-end-corruption" deal which was envisioned and promised when it first came to power – at least until the next big tripper-upper is hurdled over (an impending Universal Periodic Review).
Really? I'm not at all sure! But I am at my wit's end! Because I don't LIKE my country and the type of cricket it plays – I LOVE them… Even if it's elected, appointed, and seconded representatives let us down badly from time to time. Aiyo… Let me not to the enjoyment of national pastimes admit impediments this sunny day. Being allegedly corrupt, evidently crooked, inherently criminal, obviously coerced, understandably cowed – these are hardly the hallmarks of politicos and sportspersons alone. We all play the game today. At some time. In some way. To thrive or survive.
Will cricket inveigle country towards good governance? Possibly. (Pass.) Did country intimidate cricket into poor sportsmanship? Probably. (Fail.) Can citizenry influence country and cricket for our common good? Perhaps. (Try.) It will take more political will than mere goodwill, more good sense than good sportsmanship, and ruthless rooting out of spoilers so that cricket can become the country's happy hunting grounds again.
Follow @timesonlinelk
comments powered by

Disqus