Cricket is real fun here, that's the verdict
Duvindi Illankoon and Shaveen Jeewandara get a dose of T20 fever
View(s):
You could be the rowdiest cricket fan on the planet, but get to the top of the Grandstand at R. Premadasa Stadium (Khettarama) and a second of awed silence is guaranteed. There is nothing quite like that massive expanse of green turf, the blazing lights and the thousands screaming their country's name for all they are worth.
We took to Khettarama in the last stages of the Super 8's at the T20 World Cup which reaches its grand finale today to meet the fans who had travelled miles to cheer their countries on. There is a reason why people spend thousands to get their hands on tickets for a cricket match.
As anyone would tell you nothing will ever beat the emotional high of breathing the same air and screaming the same name as thousands of other cricket fans around you. The atmosphere at a match is electrifying; it's nothing like you'll ever experience anywhere else.
That's why scores of cricket fans around the world have no qualms about leaving jobs, school and other commitments to book a ticket to whatever country their team is playing in, travelling all that way just to be there to support their beloved heroes.
A towering turban-clad figure in white robes, with the unmistakable curly moustache appears in front of us and it's none other than Pakistan's 'Percy' – the T20 ChaCha.
The man who grabbed the attention of millions with his prize moustache says that the Pakistani passion runs deep in his veins. "I believe that we have champion material in our team, and I'm here to cheer them on," he says confidently. Here with his family, Chacha says that the hospitality is as good as the cricket, and the stay has been enjoyable so far, going "Nothing what-so-everr!", when asked if he faced any shortcomings in Sri Lanka.
We bump into a rowdy bunch of Pakistani fans – clearly high on their country's emphatic win over Australia. This is their first time in Sri Lanka, and they seem to be loving it. "People are so chilled out here," says Hassan. "It's fantastic. Best country to watch a cricket match in."
Darrel and Sally Cowlding, native Australians who used to call the island their home are back for a dose of T20. "We don't even like the actual sport that much!" laughs Sally. "But the cricket spirit here is absolutely amazing. Everybody has so much fun, win or lose, and we thoroughly enjoyed the match-despite Australia losing," she adds ruefully.
Awaiting their do-or-die match, Kunal and Pavan from India remember one Sri Lankan cricket fan who would stand up and dance-quite exotically-for every song. "It was so much fun for us to just look at him!" They've taken time off from work to come down for the matches because they didn't want to miss such an important tournament, and hope to stay on for a bit longer to enjoy Colombo's nightlife. "And the music at the match is amazing!" they enthuse, referring to the papare so beloved of local fans.
Pravin Chand is an Indian living in England. He's got a simple way of battling the loyalty blues. "If India's playing in a match, I support them. Likewise for England. If they're playing each other-well of course I'd support the Indian team!" he says, adding that his country's team performed far better in the tournament than England did.
He did have quite a lot of trouble getting his hands on the tickets however. Communication seemed to present an issue, and the 'fairly incomprehensible' road signs presented their own challenge. When told that locals occasionally face the same predicament, he laughs uproariously "No hope for us then!"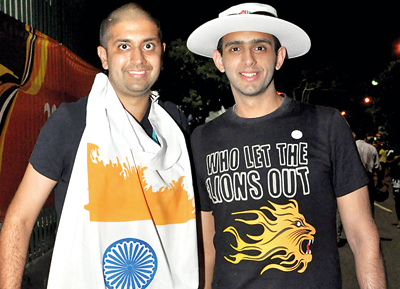 Minutes into the India-South Africa match, Morne Morkel bangs one in a tad short and Gautam Gambhir only manages to inside-edge it, uprooting his middle stump. The fireworks cloud the sky, and the South African flags soar. "This is unbelievable, why didn't we bowl like this when it really mattered?" questions Moises Theron from South Africa. Moises, a self-proclaimed super fan is here with his buddy Johan, all the way from Johannesburg, expecting a consolation win from their team that failed to live up to its potential. "We know, we know, South Africa always chokes in the big tournament, but I don't mind that as long as there's fun, and your country certainly knows how to throw a party," he says with two thumbs up.
It seems dressing up is an important part of being at the match. Crazy headgear, billowing capes, faces covered in paint-it's all there. Fanatix, set up by Ishara Weerakoon and her husband, caters to that market, producing scarves, capes, headgear and everything in between. There is a huge demand for Indian, Pakistani and Sri Lankan gear, the couple say, with some modest revenue coming in from English and Australian cricket fans as well.
It is not a secret that cricket is the ultimate binding factor in our tiny island. Devoted fans avidly follow the "gentleman's game" each year, but it takes a tournament of this magnitude to bring together the purists and the philistines; the next-door neighbours of Maligawatte and the rich businessmen from Perth; the uncle who just got his VIP pass cleared and the little one who had to beg for entrance under one roof.
Win or lose, us Lankans certainly deserve a free-hit for the extreme hospitality and marvellous entertainment put on show at the grounds for our fellow cricket addicts from across borders.
Follow @timesonlinelk
comments powered by

Disqus