Appreciations
View(s):

Kindness and generosity shone through in everything my amiable cousin did

GAMINI AMERASEKERA

My friend and cousin Gamini Amerasekera passed away suddenly on July 2nd, in Sydney, Australia, while attending his son Kavan's 21st birthday. He died of a heart attack and left this world in the way he wanted, quickly and without fuss or bother. The cremation took place at the Macquarie Park Crematorium, Sydney, on July 9, attended by more than 50 Old Trinitians.
We were close from early childhood.

I spent my holidays with Gamini and his close family at Etana Estate, Warakapola. We climbed snake-infested mountains in our bare feet, swam in muddy pools, and caught fish with hook, line and sinker. Those were fun-filled days. We played cricket in the mornings and tennis in the evenings. That kept us out of mischief – well, most of the time, anyway.

We enjoyed Christmas frolics with fireworks and midnight feasts with forbidden drinks. All through those years, Gamini's kindness, friendship and generosity shone through.

Gamini and his brother Nimal were both boarders at Trinity. Gamini had little interest in studies, but immersed himself fully in the life of the school. He was a livewire at Alison House. With his light-hearted banter and pranks, he remained a popular student throughout his school years. Even during those challenging teenage years, Gamini was a kind and thoughtful person. He left school after the GCE and joined Maharajah Organisation as a Junior Executive. There he made many friends and rose to become a trusted employee and a personal friend of the owner and director.

Gamini spent the summer of 1981 in London with me. During the day we saw the sights of that great City, and in the evenings we shared the amber nectar into the wee hours, reminiscing and putting the world to right. Those were memorable times.
Gamini married in his late 40s and emigrated to New Zealand with his family. They parted company, amicably, and he continued to live in New Zealand while the rest of the family lived in Sydney, Australia.

Gamini was a gregarious person. The lone life did not suit his persona. He continued to visit Sri Lanka at Christmas and meet up with his many friends and close family. With the passage of years, his health began to fail and his easygoing attitude to his illness took its toll.

The news of his demise at the age of 67 came as a shock to everyone, including his brother Nimal and sisters Renuka and Shirani. My thoughts are with them in this time of grief.

I regret that Gamini lived halfway round the world away from me, and wish we could have remained close, as in our childhood. Who can forget his cheeky grin?

Writing these memories has been cathartic. I reach for the comfort and wisdom of the Rubaiyat of Omar Khayyam:

"Ah, make the most of what we yet may spend
Before we too into the dust descend
Dust into dust, and under dust, to lie
Sans wine, sans song, sans singer, and – sans end."
May Gamini's soul rest in peace.

Dr. Nihal D. Amerasekera

Don't grieve for me, for now I am free

Jayantha Fernando

This poem is dedicated to the memory of Jayantha Fernando, who served as Consul to the Czech Republic in Sri Lanka, and who passed away on September 8, 2012.

Strong in faith, refreshingly real,
A crowned king in his own
castle
Background of aristocracy
Proved with pleasing
humanity
Never backed down when he saw what was true
Told it straight and meant
it at all
A leader worthy of trust
Moving forward, knowing
he was right,
That was his way.

Serving long, long years
I see a super human who
Left a handful of lessons
For his fellow men;
Gave to the needy thousands
Wrapped in religious thoughts
A pioneer of calibre
Courageous
No regrets
He will be remembered forever.

A great man holding the
Sword of impermanence –
"Death, be not proud."
Brave, ever prepared
To face the command.

Standing in that graveyard
Ears wide open, I hear
A gentle voice,
"Don't grieve for me, for
now I am free
I have taken the path God laid for me."
Pouring blessings for a peaceful exit
Setting a solid, golden monument
In our hearts.

Susi Abeynanda

A Premadasa loyalist to the core, Uncle Evans enriched my life

Evans Cooray

The profound sense of loss I was to feel upon news of his death was not simply because Uncle Evans was a relative. He was so much more than my uncle, Evans Cooray; he was my friend. I pen these lines, therefore, not merely as his nephew, but because of the profound privilege I had to call this remarkable man a friend.

When my uncle Evans told me he was going to write a book about his relationship with President Ranasinghe Premadasa, under whom he served as press secretary through his premiership and presidency, I made one request. I asked he should narrate the late president's strengths and weaknesses in equal measure. I made this request because I saw my uncle as someone who saw President Premadasa as infallible and devoid even of human weakness. For this reason, I must be true to my conscience in this brief memoir of Evans Cooray, for I believe that to gloss over some of the characteristics of our relationship and aspects of his life would be a grave insult to his memory.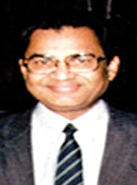 Evans Cooray was an extraordinary personality. The ability to work 16 hours straight, with no sign of fatigue or weakness alone was one of the most remarkable things about him. That he rose to fame because of his relationship with Mr. Premadasa is no secret and something he often acknowledged. For 30 years, he worked in Premadasa's shadow, standing beside the politician through thick and thin. My uncle's journalistic skill and ability to write in both English and Sinhala, made him indispensable to the former President in getting his message to the people.
Anyone who knew the inner workings of the Premadasa administration, about the stories that became popular legend: the 3 a.m. phone calls from the President to his staff and working hours that stretched from before the break of dawn often until midnight, knows that working for such a man was no mean task. Mr. Premadasa was a perfectionist. It was Evans Cooray's innate desire to constantly strive for perfection in all things that made him such a key member of the Premadasa team. His work was not just a job to my uncle Evans, it was sacred duty.
Something that always struck me profoundly about my uncle was the humility he maintained throughout his life, despite his share of the spotlight. He would tell everyone that it was Mr. Premadasa who taught him some of the greatest lessons of his life. Despite being a member of Mr. Premadasa's inner circle, my uncle always spoke to and of the former President with the utmost respect. From the moment he began working for him, my uncle used every one of the considerable connections and relationships he had built as a journalist over the years to further the cause of a leader he believed in. As far as Evans Cooray was concerned, Mr. Premadasa was not just a man; he was an institution.
His unswerving loyalty to Mr. Premadasa was most apparent to many of us, during the attempted impeachment of the President in 1991. It was Uncle Evans who first heard whispers of signatures being gathered for the motion. His extensive contacts across the political spectrum meant that he often had information about political machinations well before anyone else in the administration. When Evans Cooray first told the President about the proposed impeachment motion, an incredulous Premadasa refused to believe it. Nevertheless, in the 'constitutional revolution' attempted during the Premadasa regime, Evans Cooray stood steadfastly, unconditionally on the side of his leader. Despite his loyalty to Mr. Premadasa, Evans had been no stranger to Lalith Athulathmudali, the man who gave leadership to the impeachment attempt. My uncle often used his good offices to mediate in the tussle between the President and his Minister. I recall vividly my uncle's reaction to Mr. Athulathmudali's attempts to win him over to the side of the rebels. "If I come over to your side and work with you, you will never trust me because I would have double-crossed once. All my life I have worked for President Premadasa and I will never abandon him to work for another politician," was his response to Mr. Athulathmudali. The memory of his statement of loyalty is etched in my mind and it is a standard of faithfulness to which I try to aspire and prize above all else in my own life.
For my part, it has always been my belief that there was a great dichotomy in my uncle's unwavering loyalty to Mr. Premadasa. It proved to be both his greatest weakness and his greatest strength. While premiership showcased Mr. Premadasa as a dedicated and even talented politician, his presidency was a different story altogether. It was at this point that major ideological fissures appeared between my uncle and myself. We simply failed to see eye-to-eye on any single matter of policy or politics. As a young man who had once seen great potential in Mr. Premadasa I just could not understand why those closest to him, like my uncle, did not seek to put him on the right course during his presidency. It took me many years and a great deal more maturity to understand the type of man Premadasa was and to come to terms with the fact that he had not been as pliable an individual as I had imagined him to be. In my idealistic youth, I also could not help but feel disillusioned and disappointed at my uncle's constant involvement in politics, although he was technically a public servant.
In 1994, shortly after Mr. Premadasa's death, my uncle left for England. Each time I travelled to London, I made it a point to visit him. At each of these meetings I realised that there was a great desire within my uncle to teach the younger generation things he had learned from his life experiences. Living thousands of miles away from the land of his birth did not sever his profound connection to this land, its people and the state of his nation. If ever he met a Sri Lankan on the streets of London, on a bus or a train, my uncle had the habit of walking to them and inquiring after their wellbeing. Used to waking before the dawn, Evans continued this habit in his retirement, using the quiet time before breakfast to catch up on all the Sri Lankan news on the internet. He remained humble enough throughout his life to respond to every email communication he received, always attentive, always helpful even from miles away from his correspondents. His life's motto was that 'life is short and in that short time, we should try to help as many people as we possibly can.'
His entire life was committed to maintaining and fostering human relationships. Evans Cooray was a man who could walk with kings and commoners and treat them all exactly the same. He imbibed a great deal from his leader, who also had genuinely loved and worked for lesser privileged sections of society in his lifetime. My uncle always believed that people only asked for help when they found they could not help themselves. And so he strived to help everyone in whichever way he could.
Despite his fame, my uncle Evans remained as unassuming as ever. His lifestyle had always been one of humility and simplicity and it remained that way till his death. When he lost his job due to political reasons during an SLFP regime, politicians could do nothing to break his spirit. During that time, he bought some land and decided to take to farming to keep the home fires burning. He was a person who could find dignity in any kind of work. When he was unemployed in England he managed to find a small job to keep himself going. During my years of exile following my stint at Rivira Media Corporation, Uncle Evans sent me a letter in which he had inscribed words that will stay with me throughout my life.
"Keep your spirits up, no matter what happens. It is only if you allow your spirits to be broken that you will truly fall. Sometimes we pay a price for doing the right thing," he wrote.
Through the years, my uncle and I had many political discussions, some of them as heated as they were when Mr. Premadasa was still alive. With him being so far away, many of these arguments took place via email. After one particularly harsh email from me, Uncle Evans replied with a message that genuinely embarrassed me about my conduct. "Your email was painful to read. I felt so sorry for you when I read your letter, not because it contained so much harshness towards me. No matter how gravely we disagree or how much you scold me, the love and attachment I feel for you will never change. But I was afraid that if you reacted in anger and sent such an email to someone else the response might not be very good. So when you get angry write a letter if you must, but don't send it immediately. Place it under your pillow. Read it again once 48 hours have passed. I know that if you send it then, you will do so having first reduced the harshness of it by at least 50 percent. Try that technique. When you hurt someone there is no point regretting it later," his email said.
Evans Cooray's love for his wife and children knew no bounds. He was very close by when President Premadasa was assassinated and his life was saved by a hair's breadth because he received a telephone call from his daughter moments before the bomb exploded. For the rest of his life he believed that his daughter saved him that day. Uncle Evans' commitment to his family never wavered, despite the demands on his time from his work.
Many people did not know that my Uncle Evans was also an artist. He wrote many popular songs some of which were sung by Victor Ratnayake. So it was not just politics in which he was well versed, but in arts, literature and culture and his ability to converse on any subject was unparalleled. I often joked that he was like a walking encyclopaedia. Of all the things I admired about my Uncle Evans, it was his humanity that I treasured most. To him, other peoples' problems often became his own and he believed that living in accordance with one's conscience was the most important thing of all.
It used to be my habit to let Uncle Evans know that I was coming to London because to not tell him would be to wound him greatly. On each of those occasions, he would ignore my entreaties and be at Heathrow to receive me. Similarly, I have never left London without his presence there in person, to say his goodbyes. I know that London will always be full of memories of Evans Cooray for me. And London without my uncle will never be the same. Much like my life, which will be immeasurably poorer and so very lonely without him in it.
Krishantha Prasad Cooray
Follow @timesonlinelk
comments powered by

Disqus