A magical story revealed in pictures and words
View(s):

The Dragon's Secret · El Secreto del Dragón by Borja Miguélez and Kusana Manjusri, Bilingual edition (Spanish – English) will be launched at the Barefoot Gallery on October 11.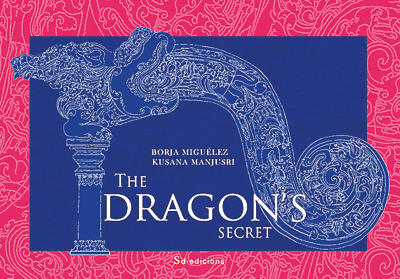 The legend says that a dragon lives in a crystal cave.In the crystal cave, the dragon tirelessly watches over a secret.
A secret the dragon will only reveal before dying.Kusana Manjusri (Colombo, Sri Lanka) and Borja Miguélez (León, Spain) made friends while chatting about stones, ink and words.
From this friendship and fascination with symbols and love for Sri Lankan classical art, sprouted a dragon, a dragon fond of napping among the branches of trees who shed soft shade… a dragon who keeps a secret… a secret that can be uncovered only by gazing inward… what would you ask of the dragon should he reveal himself to you, neath the branches of a splendid flamboyant? … are you ready to find out?
Kusana Manjusri who has done the illustrations for this book is undefinable. He paints with a fine brush, holding his breath on every stroke, like a pearl diver. He spends time living in a cave, recalling his days as a hermit. He researches the etymology of words no longer in use. He chooses food according to their colour, to the concern of his friends. He loves Sri Lanka and has dedicated much of his life to the preservation of its culture and heritage, as did his father L.T.P. Manjusri, a member of the 43 Group.
Spaniard Borja Miguélez is a dedicated humanitarian professional; delighting in relationships with people, relishing worlds. If nothing else, Borja has learned that it is not necessary to go globe- trotting across five continents to discover the farthest reaches of the universe: just close your eyes and look inside. When his children were born, he started writing the stories he wanted to read with them. Stories for all ages and no ages, Stories for people who do not seek to know it all. For people forever searching. Within. In others.
Follow @timesonlinelk
comments powered by

Disqus