Top of the class at Australian Maritime College
Asanka Rajapakse was destined for a life on the sea
View(s):
His father is a marine engineer, his brother a second engineer and his mother and aunt are both qualified chief cooks.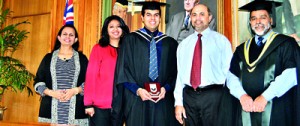 His elder sister was the first female sailor in Sri Lanka.
Add that his brother-in-law is a chief engineer and his father-in-law was a chief engineer and the Director General of the Sri Lankan Shipping Ministry, and his choice of career seems to be a foregone conclusion.
But, it was his own work ethic that saw Asanka awarded the highest academic achievement award in the Advanced Diploma of Applied Science (Chief Mate/Master)after topping his class in both semesters.
Asanka obtained his Second Mates Certificate at the University of Colombo in Sri Lanka and then spent nearly two years at sea. He then got the opportunity to come to the Australian Maritime College (AMC) to study for his Chief Mates/Masters licence.
"When anyone talks about AMC you listen, because AMC is one of the best maritime colleges in the world,'' Asanka said.
"It was the advice and feedback from AMC lecturer Captain Darryl Silva that helped influence my decision."
Captain Silva taught at the University of Colombo for 16 years before making the transition to AMC.
"Coming to AMC will give you experience with many different cultures. Even the lecturers here are multicultural. The pains taken by the faculty to make the theory fit the practice are outstanding," Captain Silva said.
"There is also the opportunity to get more exposure to a wider variety of vessels."
Asanka said that after 12-months' sea time as a Chief Mate he intends to come back to AMC to do his oral examinations for his Masters licence.
"My ultimate aim is to sail as a Master on some of the biggest ships in the world."
But, he said he would definitely be based in Tasmania for at least another couple of years.
"The people of Launceston have been fantastic and the Tasmanian scenery is amazing."
For more information please visit www.amc.edu.au/sl
You can learn more about studying at the University of Tasmania direct from a representative of the University who will be in Colombo at the Adyapana 2012 exhibition under the Australian Pavilion from 5-7 October 2012.
CRICOS Provider Code 00586B
Article published with the assistance from:
Australian Trade Commission (Austrade), Colombo-Sri Lanka.
Contact: David Samuel, Business Development Manager, Email: David.Samuel@austrade.gov.au
Follow @timesonlinelk
comments powered by

Disqus