The UoG – Q & A for your future THE UNIVERSITY OF GREENWICH, UK
View(s):

University of Greenwich – strong industry links, research excellence, and vibrant international student community.

No.1 university in London for teaching excellence (Sunday Times Guide 2011)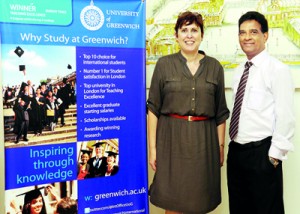 The university has three campuses, each with modern teaching and learning facilities, including libraries, computers and laboratories, in beautiful historic buildings. Wherever you study, you will find dedicated teaching staff and support services to help you achieve your goals. These 'Questions & Answers' will help solve many of your queries in regard to your future at the University of Greenwich. Many of our programmes are work-related, with a strong professional and vocational focus. All of them will help you develop the skills you will need to get a good job. We have strong links with employers and offer support in finding work placements and part-time work while you study, as well as good career opportunities once you graduate.
We do hope that you will consider coming to study at the University of Greenwich.
Where is the University of Greenwich located and what can it offer me?
The University of Greenwich offers the best of both worlds – City and Country. You are on the doorstep of London, but with the cream of Kent – rolling hills, seaside resorts and historic sites – not far away.
Education is about breadth as well as depth. It is about places and people, sights and heritage, as well as books and keyboards. So let us tell you a little about how we were born and how we have grown.
Is it reputed for higher education in the UK?
Yes, it is. Housed in some of the UK's most elegant buildings the University is steeped in History and has been providing Higher Education since 1890. The University of Greenwich is home to a thriving community of over 26,000 students of all ages. Students from over 140 countries choose to study at Greenwich, which is also a popular option for people from our local communities in south-east London and Kent. It has a rich blend of international students, including approximately 350 Sri Lankans who are currently studying a wide range of programmes with us at the University.
The University has three campuses: Maritime Greenwich, in the historic London borough; Avery Hill in South East London; and Medway, in Chatham Maritime, Kent. Studying at the University of Greenwich has many academic and employment benefits.
How is UoG rated among other UK universities?
It is rated pretty highly and is constantly among the top universities in popularity, student satisfaction and quality of education polls.
The University of Greenwich has been consistently awarded with the following recognitions in countless number of polls and ranking systems.
Highest student satisfaction rate in London
National top five university for student satisfaction in Business and Management
Top quarter of all UK universities when it comes to highest graduate starting salaries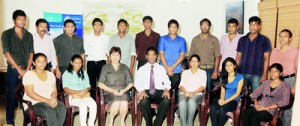 The Sunday Times League Table October 2009, 2010 
During the 2012 Olympics, a number of events will be taking place in Greenwich, and the university will be working with the London Borough of Greenwich, which takes the lead on "Skills for the Olympics" in the five Olympic boroughs.
Why is the University of Greenwich popular among Sri Lankan students?
Some of the features which have contributed towards the popularity of the University among Sri Lankan students in the past are as follows:
Quality of teaching and facilities offered to International Students.
Location of the university and the Truly International learning environment offered by the university.
The International reputation for excellence enjoyed by the university.
The competitive fees structure offered by the university.
Easy Payment Terms.
Nationality Scholarship offered to all Sri Lankan students.
Overall Student Satisfaction
Excellent services offered free of charge by the Local Representative IPC LANKA on behalf of the University
Does UoG offer any Scholarships?
Nationality scholarship – 1000 Pounds – All Sri Lankan students are offered a GBP 1000 reduction on the tuition fees and in addition eligible for merit and academic scholarships during their progress of studies at the University.
Does the University of Greenwich offer any exemptions and Direct Entry options?
Yes, they do. Exemptions are offered to partly and professionally qualified applicants with the opportunity to enter directly into the relevant year of study.
Edexcel HND Qualification in Business and in IT > – Direct entry to the Final year of the undergraduate degree programme.Edexcel HND Qualification in Quantity Surveying > – Direct entry to the 3rd year of the undergraduate degree programme.
National Diploma in Technology and Engineering > – Direct entry to the 2nd year of the undergraduate degree programme.
Advanced Diploma in IT from the Singapore Informatics Academy > Direct entry to the Final year of the undergraduate degree programme.
Advanced diploma from the Sri Lanka Institute of Advanced Technological Education > – Direct entry to the final year of the Undergraduate degree programme
 Accounting & Finance
Pass at CIMA or ACCA Operations level > – Direct entry to the 2nd year of the BA Hons. Accounting & Finance degree.
Pass at CIMA or ACCA Managerial level > – Direct entry to the Final year of the BA Hons. Accounting & Finance degree.
Pass at CIMA or ACCA Strategic level > – Qualifies to follow a Postgraduate programme in Accounting or a MBA.
Diploma or Advanced Diploma in NCC Education UK in IT > – Direct entry to the 2nd or Final year of the undergraduate degree in IT.
The International Recruitment Manager Ms. Joanne Wall would be happy to meet students with professional qualifications in different disciplines so that she could assess and see what further exemptions could be offered to study at the University of Greenwich
 What are the programmes offered at UoG?
The university offers a wide range of undergraduate as well as postgraduate programmes in the following areas of study;
Accounting & Finance/Agriculture and Food Science /Architecture & Constructions/Art & Design/Business/Computing/Criminology/ Drama & Performing Arts/Earth & Environmental Science/Economics/Education/Engineering/English/Event Management/Health/History/Law/Marketing/ Mathematics & Statistics/Multimedia/Nutritional Sciences/Pharmacy/Philosophy/Politics/ Psychology & Counselling/Public relations/Science/Sociology/Sports/Tourism, etc
What are the facilities offered to International Students?
There are plenty of opportunities provided for students to master their skills, hone their talents and basically to have an unforgettable University life.
Job Shop – you can receive help in finding part-time work within or outside the university and get advice or employment related matters.
Accommodation Facilities
The university provides a wide range of accommodation facilities for the students to choose from and the university guarantees accommodation facilities for all new students who enrol for the September intake provided they meet the accepted conditions.
What kind of students' life can I expect at the University of Greenwich?
At Greenwich, the student experience is shaped by the two well-attended Students? Unions that the university has to offer, which provide regular social and sporting activities through the various societies. They also offer valuable discounts to balance the cost of living in London.
The city of London is one of the world?s greatest metropolises and the East End is undergoing major redevelopments that have revived the area and locals can enjoy attractions such as Greenwich Market and its stunning park. The world-class O2 Arena also hosts international live music acts and a variety of restaurants. One of the most exciting prospects for a foreign student studying in London is your visit coinciding with the 2012 Olympics.
Are there any agents for UoG in Sri Lanka?
Yes, there is only ONE (1) authorized agent for the University of Greenwich for Sri Lanka. They are the International Placewell Consultants (IPC – Sri Lanka) who have been our sole representatives since 2003.
AUTHORISED REPRESENTATION IN SRI LANKA
The University of Greenwich is solely represented by INTERNATIONAL PLACEWELLCONSULTANTS the only authorized official representative in Sri Lanka which is headed by the Managing Director Mr.Rohan Wijesooriya, who has successfully guided and assisted over 1000 students for the last 8 years in the area of Career Guidance, Counselling, and visa documentation, which are offered Complimentary to all applicants.
Mr.Wijesooriya would be pleased to offer his guidance to all interested students to join the University of Greenwich if they could e-mail their request to ipclanka@yahoo.com or contact him on 0773060841/0713-266202/2593266 and visit their local office at 93, ThimbirigasyayaRoad, Colombo 5.
University particulars:
University web site: www.greenwich.ac.uk
Email: international@gre.ac.uk
Phone: +44(0) 20 8331 8136
TO MAKE THE RIGHT DECISION, CONTACT INTERNATIONAL PLACEWELL CONSULTANTS.
UNIVERSITY OF GREENWICH- WE TEACH SUCCESS
Follow @timesonlinelk
comments powered by

Disqus