Music that tells a story
By Tahnee Hopman
Vocal coach Peshali Yapa prepares her 72 students for their upcoming multi-genre musical show - her largest production to date
View(s):
When Peshali Yapa busies herself with training her 72 pupils for their upcoming performance, one particularly important piece of advice she provides is that their singing must tell a story.This is precisely what her second production- 'Call It What You Want'- does.
Taking the stage of the Lionel Wendt on July 28 and 29, the production which encompasses a wide variety of genres, promises something for every member of the audience, regardless of age or musical preferences.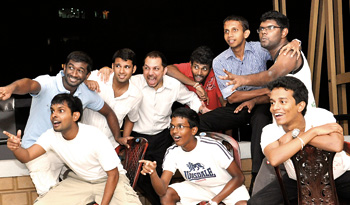 "The name 'Call It What You Want' was selected because the common theme running through the songs selected for the programme is the ups and downs of love and friendship. Neither love nor friendship can be truly defined, therefore, we invite you to call it what you want," explains Peshali.
"The music tells a story," she continues, adding that the story may differ among the audience, but is present nevertheless. The past four months have been what Peshali looks back on as an amazing experience- a process of selecting an interesting and diverse repertoire of songs and perfecting singing and choreography.
"I have had a lot of input from family, friends and pupils over the past few weeks, and that input has been very valuable," says Peshali. "I decided to put on this concert to allow my pupils to experience the fun times and the hard work involved in putting on a show. I am firm with them but also want my pupils to have a sense of ownership as this is their concert."
In the aftermath of several productions that have taken the stage over the first half of the year, securing sponsorship had proven challenging at first, but the enthusiasm of Peshali's pupils and their families have been instrumental in making Call it What You Want a reality. "This is the first time I am doing a show with a cast of this size," says Peshali. "This is only my second production and for the first, my cast consisted of only 40 pupils. This is both a challenge and a source of pride as I am able to watch more of my pupils grow as singers and performers with the older pupils guiding the younger ones."
Peshali has been a vocal coach in Sri Lanka for over six years; having taught for three years in Holland. She has trained many pupils for Trinity Guildhall examinations and for musical productions. One such production was Joseph and the Amazing Technicolor Dreamcoat  by the choirs of Asian International School. In 2009 she produced and directed her first show 'Peshali Presents'.
" In addition to teaching," she says, "I sing with the chamber choir Oktave and also perform as a soloist at various concerts. When not teaching or singing, I like to try out exotic dishes of my own creation and travel the world with my sister."
The cast is made up of pupils from the junior choir, The Piccolinis and the senior choir, Coro CantAmici. They are of different ages ranging from 6 to 39 years . Some are still at school, others at university or working but all have a shared love of music and song.
Tickets for the show priced at Rs. 2000, 1500, 1000, 750 and 500 will be available at the Lionel Wendt from July 15.
comments powered by

Disqus