An eye for landscapes
View(s):

Mithra Weerakone is no stranger in photographic circles in Sri Lanka today.  The son of renowned photographer the late Dr. M.S. Weerakone, he is, as they say, 'to the manner born,' having from his young days accompanied his father who went out every day to take photos on the Negombo beach and waterways.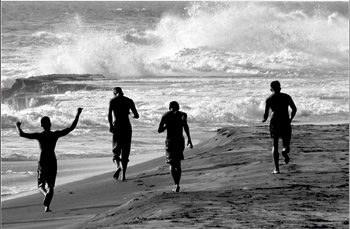 "When he took a photograph, he would describe to me the beauty of the image," Mithra says.  Many were the times he watched his father work till late developing a print at home, he recalls. The pleasure of seeing a print appearing on the developer lingers in his mind – an activity he still enjoys, when time permits.
Mithra got his first camera at the age of 16, in 1978 – a Rolliflex twin lens reflex. From there on it was a case of clicking away. Nurtured in an environment where photography, classical music and poetry were appreciated, it is not surprising that the aesthetic aspect comes to the fore in his work. He has a special liking for landscape photography.  "My eyes are mostly on the contrast of images and anything against the light gives me great pleasure to photograph," he says.
Among the first prizes he won locally were the 'Orwo' competition awards. He set out to compete with his father in the 'Open' category and did win several times – of course with guidance at hand! From the 1980s onwards his photographic travels took place in the context of being boarded in Colombo for educational purposes.
A notable international achievement was being among the top three at the UNESCO competition in 1984. Mithra's photos have also been accepted and exhibited at prestigious international 'salons'. Enthusiasts in Sri Lanka may recall his joint exhibitions with his father, first in 1992 titled 'Mine eyes have seen', and again in 1995. More recently, a visit to India sponsored by the Indian High Commission resulted in an exhibit at the 'Deyata Kirula' exhibition, titled 'India through Sri Lankan eyes.'
Mithra mastered the art of commercial photography at Studio Times, under the guidance of the legendary Nihal Fernando.
Not surprisingly during this time the emphasis was on wildlife, historic sites and aerial photography.  He used  5"x 4" field view Linof and Hasselblad cameras.
Livelihood considerations inevitably led Mithra into commercial TV and video production work, and in 2002 he set up 'Tele-extreme', his own photography and television outfit.
While he takes all this in his stride, he remains ever the artist at heart. Mithra is the immediate past president of the Photographic Society of Sri Lanka.
He was awarded an Honorary Fellowship of the National Photographic Art Society (NPAS) and received the Licentiate of the Institute of Sri Lankan photographers.
An exhibition of about 100 images by Mithra Weerakone in both colour and black and white, titled  'Odyssey of Mine Eyes' will be open to the public at the Harold Peiris Gallery of the Lionel Wendt art centre, 18 Guildford Crescent, Colombo 7, on July 21 and 22 from 9 a.m. to 7 p.m.  It will include about 10 prints by Dr M. S. Weerakone. The opening on Friday, July 20 (by invitation only) will be by Sunethra Bandaranaike.
comments powered by

Disqus