How is zaat!
View(s):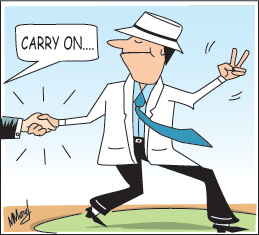 Talk is agog that a certain cricket official who had been demoted has been asked to officiate at a one day game between Sri Lanka and the touring Pakistan team. How come, those in the know ask, when there are officials who are qualified to do the task that this particular umpire has been brought in to officiate this game? They say that this particular official is quite friendly with those who assign officials for such matters and that they have overlooked this set back to get him nominated to the game.
By hook or by crook
This is about a former cricket great who can dance the gig. He is now trying his best to take part in a premier cricket tournament planned by the country's controlling body. In fact he is trying, by hook or by crook, to take part in this competition that he has even approached the Big Boss, hoping that he will intervene on his behalf. Can it be that he is using his political clout to take part in this contest?
Double its worth
Now an inquiry is on as to how a pole vault has been purchased for almost double its worth. Apparently bogus bills have been forwarded for these pole vaults and the officials in charge are wondering how such staggering sums could be forwarded for such sports equipment!
Stooping down
An entirely new case of deceit has been noted. This is about the bills forwarded for the purchase of identity cards for the Asian Junior Athletic Championships held here. The cost for these identity cards is a staggering sum and that too to the effect that they have been prepared in China. Those in the know say that material for such identity cards could be purchased in Pettah at the rate of Rs.20 per item. This shows to what level people will stoop down to.
London Olympics
With the London Olympics just days away there is a clamour among officials to be present at the occasion. One such official has nominated his own name, obviously with the help of some officials, to the Central Committee Meeting, so that he could be present in London. This official wields quite a lot of power and the chances are that he get away with this ruse.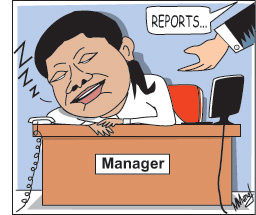 Running scared
Recently trials were held to select athletes for the SAF Games. A girl athlete who is good in the 400m pulled out of the event and opted to run in the 200m instead. The reason being that there were quite a lot of up and coming runners in the 400m that she feared that she may be beaten in the event.
What ails her?
The Junior Asian Championships were held on our shores about a month ago but to date no manager's report has been submitted. The lady in charge says that there is no urgent necessity for this report. This same lady was involved in a sports meet in Anuradhapura and to date no report has been submitted. Obviously she is power crazy but is lacking in her efforts to do the paper work. What ails her?  In Sinhala phraseology it is 'Booruwa Ge Wede Balla ta bara Deela'
comments powered by

Disqus