Is Sri Lanka becoming a transit point for illegal trade in wildlife? Last week, Sri Lanka Customs uncovered a consignment of 359 African elephant tusks concealed in a container on a ship sailing from Kenya to Dubai. Weighing 1.5 tonnes, the haul is the largest ever of elephant tusks seized by local authorities.
At least 180 African elephants would have been killed to yield that many tusks which, in the blackmarket, could fetch up to US$1,000 a kilo. Some of the tusks were as long as seven feet and had been cut into pieces for easy packing. Bags of dried fish waste had been placed near the door of the container to mask any odours given off by the tusks, Customs officers said.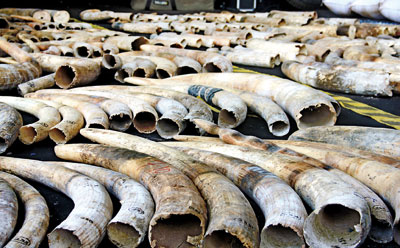 Tragedy: The 359 African elephant tusks concealed in a container on a ship sailing from Kenya to Dubai. Pic by Indika Handuwala
Customs had acted on a tip-off citing a certain Kenyan exporter, Custom's Central Intelligence Unit deputy director Udayanath Liyanage told the Sunday Times. Sri Lanka Customs officers are working closely with the Kenyan Customs on the case, but no arrests have yet been made.
Although the shipment was destined for Dubai, the final destination could be the Far East, a hub for ivory smuggling and ivory business, said Sri Lanka Customs Biodiversity, Culture and National Heritage Protection Division deputy director Samantha Gunasekare.
One such destination is Hong Kong, famous for the ivory carving trade, which is controlled by a mafia, according to Mr. Gunasekare. Most of the ivory ends up as ivory seals ("hanko"in Japanese), which are in big demand in Japan. China feeds Japan's demand for ivory.
Trade in both Asian and African Elephant tusks was banned in 1990, under the Convention on International Trade in Endangered Species of Wild Fauna and Flora (CITES). Because Botswana, Namibia and South Africa have large elephant populations, these Africa countries are allowed a limited trade in ivory. Legally traded ivory is stamped with a country code. The tusks seized in Colombo had no markings, suggesting they were harvested from illegally killed elephants. There were also signs that the tusks had been buried in the earth for some time, Mr. Gunasekare said. The tusks were soaked in DDT to repel insects and pests.
Conservation efforts in support of the African elephants have led to a decline in poaching. However, last year was not a good year for the elephants, with reports of mass cullings of the African elephant. A total of 2,481 elephant tusks were seized worldwide last year.
When the investigation is completed, Customs will decide whether the illegal stocks are to be handed over to the state of Kenya or confiscated. If the tusks become Sri Lankan state property, they should be treated as narcotics or contraband and destroyed, says conservationist Rukshan Jayawardane.
"When the buying stops, the killing will stop," Mr. Jayawardane said. "No value should be placed on such contraband. Nor should the tusks be used in any way or put on display. Sri Lanka should publicly destroy this stockpile of tusks to show that we totally condemn and have zero tolerance for the illegal trade in animal parts. In Kenya, large hauls of illegal tusks are periodically burnt in public to convey the message that no blood money in tusks is allowed."