When freedom came for former Army Commander, Sarath Fonseka, after 27 months in jail, he was not aware it was only a conditional pardon.He would still have to face two court cases. One is on charges of employing Army deserters, and the other is pertaining to military procurements related to his son-in-law's firm Hi Corp.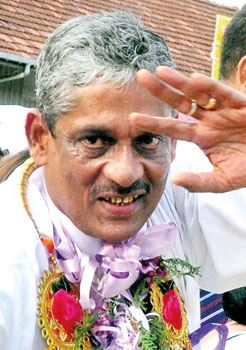 The journey of freedom begins: The former Army Commader gives a salute as he leaves the prison last Monday. Pic by Mangala Weerasekera
In this backdrop, it was Leader of the Opposition Ranil Wickremesinghe who raised query on whether those who negotiated on behalf of Fonseka, knew he was only receiving a remission of his remaining sentence. His lawyers said yesterday that they were unaware of details of the basis on which the release was being made.
Democratic National Front (DNA) parliamentarian Tiran Alles, who, President Mahinda Rajapaksa acknowledged was the one negotiating with him for Mr. Fonseka's release, too said he was unaware. Mr Alles told the Sunday Times, "We did not discuss the conditions of the release. We wanted to get Fonseka out of jail. We were not aware of the conditions on which he was going to be released."
From the prisons, Mr. Fonseka drove on Monday evening to his temporary residence at Talawathugoda, a luxury house owned by a political family from Gampaha. He told reporters there that he would await next day's newspapers to learn the basis on which he was being released. Later, he sat down with his wife and two daughters for a rice-and-curry meal. The former Army Commander told them that, in the prison, dinner was served at 3 pm., but most prisoners kept their food till nightfall.
There were behind-the-scene moves in the hours ahead of his release. Earlier, Prison officials had wanted to ensure Mr. Fonseka's departure from the private hospital where he was undergoing treatment. This was after the Supreme Court granted approval to withdraw two appeals he had lodged. However, the onetime General had insisted that he should be released from prison. The idea was to make his return to freedom, to a large crowd.
After some haggling, an aide to Mr. Fonseka said it was agreed he should first attend courts and thereafter, taken to the prisons. By the time he arrived at the Supreme Courts complex, the sessions had ended. Chief Justice Shirani Bandaranaike, who chaired a five-Judge Bench, had directed the Registrar of the Court to inform the Secretary to the Ministry of Justice, first by telephone, followed with the relevant documents, confirming the withdrawal of the two appeals.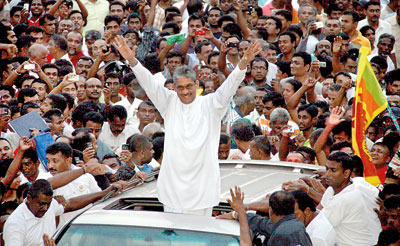 Kandy: Crowds gather to meet Sarath Fonseka. Pic by Romesh Danushka Silva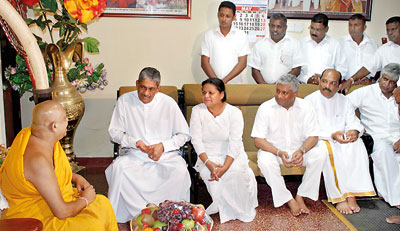 Anuradhapura: Sarath Fonseka with Anoma, Tiran Alles, Range Bandara Arjuna Ranathunga with Atamasthanadipathi Ven. Pallegama Siriniwasa Nayake Thera. Pic by Athula Bandara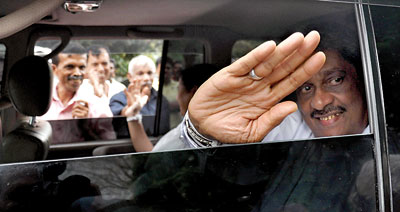 At Mirigama on Friday. Pic by Pradeep Pathirana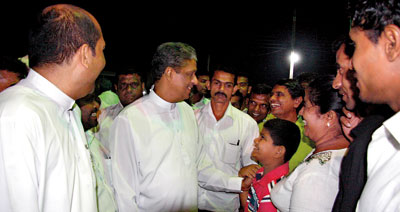 Puttalam: On hearing of his arrival people flocked to the town despite it being late Thursday night. Pic by Hiran Priyankara