The gold rush by the banks of the Kelani River in Pugoda has been put on hold by the police.
Police officers have been deployed along the riverbeds of Kumarimulla in Pugoda while the government is holding discussions on issuing a licence scheme to search for gold.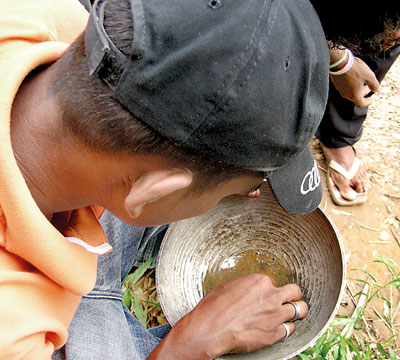 Searching for gold: A hard day's work. Pix by Athula Devapriya
Police spokesman Ajith Rohana said they decided to put a stop to the search to maintain peace as thousands began to flock to the area. However, their presence on Thursday was met with protests.
"About 300 people took part in the protest held in Pugoda town around 9 a.m. What the people wanted was to be allowed to dig the riverbeds as they wouldn't cause any environmental harm," a villager said.
About 700 villagers live in Kumarimulla and most of them earn a living through sand mining.
Fifty-four-year old Gunasinghe, a villager from the area lamented that the villagers were only able to find very small pieces of gold. "They were even smaller than a tea leaf and the villagers had to search long and hard to find them. It is with great difficulty that we find Rs.400 – 500 a day," he said.
With the news spreading about finding gold, residents from close by areas also flocked to Kumarimulla.
C. Chinthaka a technician from Kadawatha, said he came to the area on hearing that gold in bulk was found in the riverbeds.
The people who struck gold had sold them to the two jewellery shops found in Pugoda and others in Avissawela. M. Saffan, manager of Lucky Gold House, said that the gold found along the Kelani River was 24 carat and they had paid Rs.52, 000 for a lot of gold that weighed a sovereign from people who brought it to them. "Around 10-15 people came to our shop to sell the gold they had found along the river and we were able to purchase gold that totalled around 12 sovereigns. The people bring them as dust and we dissolve them in mercury," he said.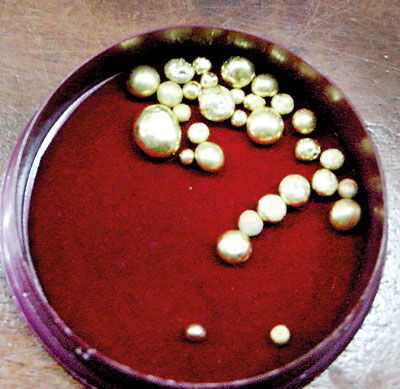 Some of the gold melted after it was found along the banks of the river in Pugoda
Meanwhile Geological Survey and Mines Bureau Chairman Dr. N. P. Wijayananda, said some villagers had themselves carried out the task of dissolving the gold in mercury. "This is dangerous because without proper machinery it could be harmful to them," he warned.
Mr. Wijayananda said in general there was a licence scheme in operation when it came to mining rivers.
"With the help of the District Secretary and Divisional Secretary we will implement a similar scheme in the area where people are digging for gold," he said.
He explained that people will not be allowed to bring machinery to dig for gold. "We will only allow manual mining so that there won't be any harm to the environment," he said adding that however they would prefer if villagers searched for gold in the river instead of digging the river banks.
"The people can sell the gold they find to any person they want but they will have to pay a royalty of about 5% to the Government," he said.