Soothing blues and greys meet the eye with a large painting in vivid pink and green bringing cheer to the patients in the dedicated Retinal Clinic at the premier National Eye Hospital at Colombo.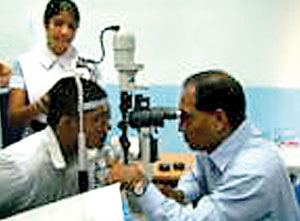 Dr. Charith Fonseka examines a patient soon after the opening. Pix by Nilan Maligaspe
The equipment for the dedicated Retinal Clinic including three slit-lamps and an auto-refractor had been donated by Lankem Ceylon Plc., in addition to refurbishing the clinic section as well as the retinal ward, by replacing the fans and the ceiling lights, fixing air-conditioners and giving the section a brand new coat of paint.
Earlier patients with detached retinas were part of the hundreds attending the general ophthalmic clinics. National Eye Hospital Director, Dr. Sisira Liyanage, Consultant Ophthalmologist Dr. Charith Fonseka and his team under whom comes the Retinal Clinic, the wife of Lankem Chairman Mrs. S. Rajaratnam, Lankem Managing Director Anushman Rajaratnam and his wife, Mrs. A Rajaratnam, participated in the simple opening ceremony held on March 8.
AGM of Friends of the Accident Service
The annual general meeting of the Friends of the Accident Service affiliated to the Accident Service of the National Hospital will be held at 10.30 a.m. next Sunday (March 25) at Pegasus Reef Hotel, Hendala, Wattala.
Essay competition to celebrate 63 years of Sino-Lanka ties
Sri Lanka China society, in collaboration with Sri Lanka China Friendship Association, Bandaranaike Memorial National Foundation, Association for Sri Lanka – China Social and Cultural Cooperation and Sri Lanka Journalists Forum has organized the celebration of the 63rd anniversary of the establishment of the Peoples Republic of China which falls on October 1.
The completion of 55 years of diplomatic relations between the two countries and the completion of 60 years of signing the famous Rubber - Rice pact by the two countries is also marked this year.
The Sri Lanka – China Society, as part of their celebrations has arranged an essay competition for students in the GCE O/L and GCE A/L grades. This competition will be conducted in Sinhala, Tamil and English. In each competition the first three prizes will be Rs. 7,500, Rs. 5,000 and Rs. 3,000. There will be three more consolation prizes of Rs. 1,000 each. Following are the guidelines:
1. Any students who has been reading for GCE O/L or GCE A/L by the month of August 2012 can participate in this competition.
2. The title of the essay is "People's Republic of China is the most – intimate friend of Sri Lanka."
3. The essay should be written legibly and should not exceed five pages of A 4 size.
4. The student competing must declare in writing that the essay is written by himself/herself. The College address and the private address must be given.
5. A Certificate signed by the school principal stating that the competitor is a student of the school by August 2012 and that the essay was written by the competitor should be attached.
6. The essays for these competitions must be sent under registered cover to the following address on or before Monday July 30. President, Sri Lanka China Society, 5, Sudharshana Mawatha, Nawala.
7. All the cash prizes and the special prizes from the Chinese Embassy will be given away at a public meeting which will be held at the BMICH in the last week of September 2011.
8. Any decision made by the Sri Lanka - China Society regarding this competition will be final.
Pera Uni Alumni AGM
The Annual General Meeting of the Alumni Association of the University of Peradeniya (AAUP) will be held on Sunday, March 25 at 9.30 a.m. at the Arts Theatre, Faculty of Arts. Ms. Somalatha Subasinghe, well known theatre personality and alumnus of the University will be the Chief Guest, and Prof. S. B. S. Abayakoon, Vice-Chancellor of the University the Guest of Honour, a notice issued by Prof. Sarath Ilangantileke, President AAUP says.
The AGM will be followed by lunch and fellowship at the Vice-Chancellor's residence. All alumni of the University of Peradeniya are invited. Please contact aaupslk@gmail.com or 0777403469 on or before March 20 for lunch tickets.
My Wish Foundation: Working to give hope to the hopeless
By Aanya Wipulasena
Not all children have a normal happy life. But even if terminally ill, they have wishes and dreams. Some very simple- a trip to the beach or the zoo or to meet some person they admire. The My Wish Foundation, a registered charity was established in 2009 to provide terminally ill children and their families with comprehensive financial and emotional support.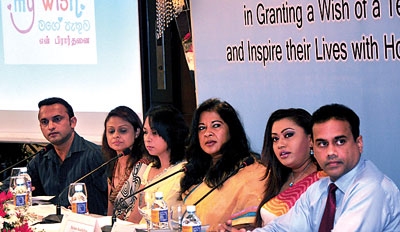 A news conference regarding the work of the foundation in progress.
Pic by Mangala Weerasekera
First Lady Shiranthi Rajapaksha and Indrani Weerathunga are the patrons of this charity organization which steps forward to grant a wish of a child with life-threatening medical conditions. There are thousands of little children at the Cancer Hospital in Maharagama and with these little ones are their parents who come to look after them.
"I saw a programme on BBC where they make wishes of children in need come true. All the other channels too support this worthy cause and I thought we too should come together and do something like this," Nelum Arachchige, founder and President of My Wish Foundation whose father passed away from cancer said.
Dr. Kosala Muthukumara of the Cancer Hospital said that sometimes what these children ask for and what they really wish within their hearts are two different things and that one has to "read between the lines" and grant the wish they really need.
The My Wish Foundation has made many wishes come true since its inception. The first wish was from eight-year-old Tharuni who was half paralyzed due to a brain tumour. Her dearest wish was to go to the zoo and on August 10, 2009 her dream was fulfilled. 20 days later, Tharuni passed away. "After seeing my daughter so happy and excited, I now have that memory to hold on to for the rest of my life, Tharuni's mother said.
Many families travel from places like Bibile, Anuradhapura and Polonnaruwa for treatment. Most don't have any relatives or friends in Colombo to help them. A family from Bibile whose eldest son has cancer has rented a room but find it hard to pay the rent. My Wish Foundation stepped in to help. Currently, they are working on building a Cancer Support Centre for children in an area near the Cancer hospital in Maharagama.
Those interested in helping can visit My Wish Foundation 87A, Old Kesbewa Road, Raththanapitiya or contact Nelum on 0777999169. They can also email mywishproject@yahoo.co.uk. A stakeholder awareness and membership drive programme will be held today at 2 p.m. at the Mahaweli Authority Auditorium. For more information please visit www.mywishcharity.org.
An all 'Blu' affair
Lanka Milk Foods launched their 'Blu' energy drink with a splash with customers enjoying a blue evening reception at the King's Court of the Cinnamon Lakeside last month.
Remembering D.S:Commemorative Meeting at Independence Square
Prime Minister D.M. Jayaratne and Opposition Leader Ranil Wickremesinghe will be the chief guests at the 60th Death Anniversary of D.S. Senanayake Commemorative Meeting to be held at Independence Square on March 22 at 3 p.m.
D.S. Senanayake, the first Prime Minister of independent Sri Lanka died on this day in 1952. Known as "the Father of the Nation' he steered the country towards independence in 1948. His statue at Independence Square will be garlanded by Mayor of Colombo A.J.M. Muzammil.
On March 21, a dhane and bana will be held in the late PM's memory at Mallika Nivasa in Bambalapitiya.