She lived under the shadow of a personality as big as life. Her husband, Tissa Wijeyeratne, was Additional Secretary of Defence and Foreign Affairs under Mrs. Sirimavo Bandaranaike, as well as ambassador, active Socialist, founder of Sinhaputhra Finance, Barrister and Attorney-at-Law. Tissa's charisma, oratory skills, sense of humour and prankish nature overshadowed in society an extremely talented lady – his wife.
Vishaka was born on March 17, 1935, to an illustrious family in Anuradhapura. Her father, Dr. Edmund Ashoka Nuwaraweva Bulankulame, was one of the first Ceylonese medical doctors to pass out from the prestigious University of Edinburgh, in Scotland. The Bulankulame family were custodians of the Atamasthana, and Dr. Bulankulame held the high post of Atamasthana Nilame for a short term, on behalf of his brother. All this framed Visakha within Buddhist traditional values.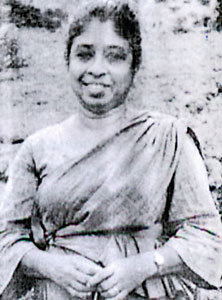 Her mother, Ivy Dunuwille Senanayake, was the eldest daughter of D. S. Senanayake's older brother, D. C. (Don Charles). She had both a traditional upbringing flavoured by the Westernised Senanayake upbringing.She was schooled at the Holy Family Convent and Newstead, Negombo, where she excelled. She went on to follow an intensive two-year course in agriculture at the Girls' School for Farming in Kundasale. This school of agriculture, which was of an extremely high standard, was established by her grand-uncle, D. S. Senanayake, when he was Prime Minister.
Visakha's talents were nurtured under David Paynter and Stanley Abeysinghe, as an art and art literature student at the Heywood School of Fine Arts. This esteemed institution has groomed many of Sri Lanka's finest artists, from the home of Don Charles Senanayake, "Sirimedura", at Ward Place, in Colombo.
After her marriage to Tissa, son of Cabinet Minister Sir Edwin Wijeyeratne, and the birth of her first child, she was encouraged by her husband to seek work exposure in a foreign country – a tough proposal for a mother with a three-year-old daughter. She took the challenge, and in 1967 moved to St. Gallen, a city on the German side of Switzerland. Working and living alone, Visakha trained in hand embroidery, and later headed her department at Schleifer's, an acclaimed embroidery establishment founded in 1865.
When she returned to Sri Lanka in 1966, she started a cottage industry to revive ancient Sinhala embroidery techniques, with Ananda Coomaraswamy's "Medieval Sinhalese Art" as her primary source of inspiration.
Her skills in painting, sculpture, ceramic art, embroidery, writing, poetry and limerick composition, coupled with the teaching of hand embroidery and language lessons in German, French, Russian and Sinhala, brought in extra revenue for the family.
Visakha was an exemplary woman of yesteryear who faced the economic challenges of the modern day. The double income of husband and wife – now a necessity for most middle-income Sri Lankans – is best managed when one of the breadwinners is a stay-at-home parent who takes responsibility for the children.
Visakha's views on feminism were conservative to the extent that she believed a woman's role should be home-based, for the sake of the children, and that there is no substitute for a mother. With this conservative non-Western conviction, she embarked on projects that more often than not brought in more income than her husband earned. She believed that women should be economically independent, and she demonstrated this in her social work as a President of the Inner Wheel Club of Kandy, which is a part of the Rotary International movement.
As an artist, her Impressionistic style was greatly appreciated in Paris, where she exhibited on three occasions during her four years as the Sri Lankan ambassador's wife. Her paintings were bought by dignitaries in Paris and the diplomatic circle of the early 1970s. Buyers included US Under-Secretary of State, John N. Irwin II, German Chancellor Helmut Schmidt, Chilean Nobel laureate Pablo Neruda, Indonesia First Lady, Devi Sukarno, and British Liberal party leader, Jeremy Thorpe, to name a few.
On her return to Sri Lanka, in 1974, she discovered that the Sri Lankan art market did not appreciate her painting style, using heavy brushstrokes. She was forced to convert to a more realistic style, a transition she loathed. Her later landscapes and portraits had lost the effect of the heavy brushstrokes.
Visakha was also famous for one of the finest reproductions of the 1815 portrait of Rangamma, main consort of Kandy's last king, Sri Wickreme Rajasinghe. She reproduced the painting five times, and each time the picture was snapped up by art buyers, at Visakha's annual exhibitions at the Lionel Wendt, in Colombo. Reprints of "Rangamma", produced by Tissa and Visakha Wijeyeratne, hung in more than 5,000 homes in Sri Lanka, and many continue to adorn these homes. The portrait was reproduced on the cover of the Sinhaputhra Finance 2012 Calendar.
Her other notable reproductions were of Fragonard's "Inspiration"; Carlo Dolci's "St. Cecilia"; Da Vinci's "Mona Lisa", and Renoir's "Monet Reading."
Visakha Bulankulame Wijeyeratne's greatest honour came in 1981, when she was at her peak, with a commission to do the portrait of President J. R. Jayewardene. Her most notable international exposure was in 1987 when she exhibited, along with 56 Commonwealth artists, at The Bhownagree Gallery of the Commonwealth Institute in Kensington, London. On display were her water colour renditions of orchids.
In her later years, the cottage industry she set up for the production of hand-embroidered sarees, kaftans, cushion covers, wall hangings, bed and table spreads, and the like, provided a livelihood for village women, mainly in the Kegalle area. The self-employed young women could work in their homes.
For financial reasons, Visakha focused more on her cottage industry than her paintings. The hand-woven goods were popular with tourists visiting her small shop at the Hotel Suisse, Kandy, in the early Eighties.
By this time, her paintings were few and far between. She turned to literary pursuits, writing jolly limericks and art-related articles for the newspapers, including pieces on the Sigiriya paintings. She also engaged in social welfare, and for a short time was a member of the board of directors of Sinhaputhra Finance, where she promoted the concept of micro loans.
A few of Visakha's paintings are on display at the Sinhaputhra Finance head office in Kandy, and at her home in Hantaana. Her daughter, also an artist, has named her parental home "The Painted Garden", where most of her mother's works are displayed.
Visakha succumbed to multiple strokes and passed away after four hard-fought months, aged 64, on April 13, 1999. Her spirit and character live on in her poetry, limericks and paintings.
Gayathri Rajaguru
A rare and exemplary judge who was an honour to his title
Justice Pulasiri Wijeratne
The sudden demise of Justice Pulasiri Wijeratne has left a great void in the judiciary. The loss of this eminent personality is deeply and widely felt. Justice Wijeratne was a shining example to the younger generation. He was someone who pursued the cause of justice above and beyond comfort zones and personal gain. He was a legal luminary who spurned fame and fortune. He never delivered a vengeful verdict.
The true greatness of a man lies in how he acquired that greatness. He observed that people usually think highly of those who rise rapidly to fame, but nothing rises quicker than dust, straw and feathers. A Sinhala scholar once said that the laws in an undemocratic society are like "a country where nudity is legalised and respect for wearing clothes is a joke."
We need to be reminded of the days when an elite coterie of judges acted without greed for material gain. Justice Wijeratne retired prematurely, maintaining his self-respect, and always conscious of the prestigious position he held. Of him it can be truly said: "Titles of honour add not to his worth, who is himself an honour to his title."
Justice Wijeratne ran the gauntlet of a demanding profession and stood for what was right. He was among a handful of judges who were unafraid to ruffle feathers, inside or outside the judiciary. His dedication and loyalty to the profession were never in doubt. He was a gentleman of absolute honesty and integrity. Justice Wijeratne was a special kind of person, with his own order of values.Some might say that Justice Wijeratne was unpopular in the judicial circle, but this did not bother him. He knew that such criticism came mostly from legal crooks driven by mercenary motives. Once he reached a decision, he remained firm and resolute.
His kindness and compassion knew no bounds. He never abused power or privilege. Not for him the machinations and reprehensible conduct of today's so-called adjudicators. Political pressure was brought on him at trials, but he remained unswayed, saying truth and justice were the hallmark of his existence. He and his family led a simple life. They believed that happiness was not based on the possession of luxuries. He moved freely in the higher echelons but was accessible to all who wished to meet him. His acts of humanity included helping the needy in their most miserable hours.
His life in court was governed by the most precise etiquette. He was deeply concerned about violations of human rights, and law-breakers were granted no reprieve.
I was privileged to work with Justice Wijeratne when he was a magistrate at Baddegama, in 1972, and I was a novice Sub Inspector. I was a cub prosecutor then, and I learnt my first lesson in court procedure from my mentor. He inspired and guided my life as a police officer. When political viruses entered, I decided to leave the service with dignity.
I remember his advice when I got heavily involved with certain politicians and Cabinet Ministers and later, as Officer-in-Charge of Polgahawela and Hettipola, 1983-1987, I filed cases against the MP for Polgahawela and Panduwasnuwara. By chance, I met Justice Wijeratne in the AG's Department. His advice was: "Do the justice you know and you shall learn the justice you need to know – be sure you are right, then go ahead."
I owe him a huge debt of gratitude for all he taught me and the values he inculcated in me. He was a towering influence in my formative years in the Police Department. It is said that a leader creates more leaders by virtue of his deeds. Justice Wijeratne's gentle smile, patient listening ear, and sound advice brought much comfort and relief to many a troubled and desperate soul.
He was a loving husband and a devoted father to his well-educated children. The greatest gift he left his family was his good name. They can proudly say: "Justice Wijeratne was our father." Justice Wijeratne hailed from a distinguished family from the South. The light that once illuminated his house at Malambe has been suddenly extinguished. He trod lightly and spoke softly, but the echo of his noble life will live on.
Let us draw solace from the Dhammapada: "Rare is the noble man, he is not born everywhere; wherever that steadfast man is born, that family obtains happiness." Life goes on, and when the inevitable call comes, we must go. Having gained so much from this gentleman par excellence, I feel compelled to write this tribute in memory of a truly great human being who made an unprecedented contribution to the judiciary of our motherland.
"Poojatha Poojaneeyanan" – respect those who deserve to be respected – Lord Buddha
Sarath Dhanapala
The most beautiful things in this world must be felt with the heart
Baby Minindu Matheesha Hewage
With your lovable ways, you touched the hearts of everyone you met. The first-year remembrance of our darling Chuti Puthu, who left us on March 7, 2011, has brought back all the pain and heartache. The year has dragged on desolately without you. Every moment you are in our hearts, as we try to hide our tears from one another.
You were a most gentle and affectionate bundle of joy. You broke our hearts for ever. Our lives will never be the same. The rare talents you showed at the tender age of one year and three months gave us great hopes for you. We had no inkling of what awaited you and your loved ones. You left us with all the serenity and beauty you possessed, plunging us into never-ending misery.
They say that "the most beautiful things in this world cannot be seen or touched but must be felt with the heart." This is what we, your loved ones, have been doing since that cruel day when you were snatched away from us.
From the day you were born, you inspired us to do meritorious acts, and this has intensified with your demise. It is as if you wanted to leave in a hurry and come back with a long life. On March 7, we held a pirith ceremony, and on March 10 and 11 there was a Buddhist sermon, followed by an almsgiving to bring blessings upon you.
May the blessings we pass on to you, day in, day out, save you from another untimely death in your sojourn in Samsara. May you come back to us, precious Minindu Baby, and fill the void created by your loss.
Your ever-sorrowing Thaaththa and Amma,Vajira and Prashanthi, and all your loved ones