Umbartha, a symbolic threshold that helps you to crossover from one enchanting country into another, was launched in 2011 with an exhibition and sale of original Indian Items.
Their second exhibition and sale will be held on Saturday, March 24 from 10 a.m. to 8 p.m. at the Dutch Burgher Union Hall Bambalapitiya.
This sale will include home spun sarees and a limited selection of Tussar silk sarees unique to Maharashtra, kantha worked sarees, Lucknowi sarees and kurties, Assam silk and a whole range of office wear sarees, elegant kurtas, kurties and jewellery.
Soul Sounds singing Whitney Houston's greatest hits and more
Soul Sounds, Sri Lanka's premiere female ensemble, will take the stage this month to present a concert honouring Whitney Houston. This will be a concert with a difference, as it will also trace the life of Whitney Houston, through songs taken from her numerous albums.
Soul Sounds will present a balanced repertoire performing some of her popular songs, as well some of the lesser-known numbers, adding their own unique touch with special arrangements. This particular concert will also feature some of the best solo voices from Soul Sounds namely Shehara Liyanage, Andrea Melder Labrooy, Aanjanee Jayasooriya, Roshie Wickramaratne James, Tanisha Wijesinghe and Angela Fernando.
The concert is directed by Music Director Soundarie David Rodrigo, along with well known musicians Mignonne Fernando, Christopher Prins, Revel Crake and Pradeep Rodrigo. The event will be held on Friday, March 30 at 7.30 pm and will be the first performance of this kind to be held at the latest entertainment venue in Colombo, "The Stables" at the Park Street Mews Boulevard. There is limited seating and tickets can be purchased at the Park Street Mews. More information can be obtained by visiting the Soul Sounds webpage (www.soulsounds.org) and Facebook page.
Out of the society pages!
'Merry Wives of Colombo', Indu Dharmasena's Shakespearean adaptation includes scheming women, a philanderer and a trouble-making gossip
'Merry Wives of Colombo', Indu Dharmasena's modernized-and localized- adaptation of William Shakespeare's The Merry Wives of Windsor, will go on stage on March 30, 31, and April 1 at the Lionel Wendt.
A tale of love, lust, trust and jealousy, Indu's reprisal of the play was last performed for Colombo's theatre lovers in 2003. The play has been updated and the cast revamped, with only Indu and Gehan Cooray reprising their roles from the original production.
The plot weaves around married friends Tammy and Madhu, who are both courted by, they are outraged to discover, the same man! Politician and philanderer John Sabagedara, has no scruples. Together with the help of their friend Sandra and Sabagadara's sidekick Bandhu, they embark on a mission to teach him a lesson, only to be suspected of infidelity by their husbands Rajiv and Nigel, who are misinformed of their wives' intention by trouble-making gossip Upeksha.
Koluu plays 'Girly' (ironically a socialite and restaurant owner in the play!) and joins the merry cast comprising Indu himself, Stefan Raymond, Gehan Cooray, Sanjana Selvarajah, Sanwada, Abbasali Rozais, Anoop Kapukotuwa, Niroshi Perera and Trinushka Perera. The play is presented by the Rotary Club of Colombo Metropolitan and the proceeds are to be utilized for their projects.
The show on March 30 (Friday) is exclusively for HSBC customers and they are requested to contact HSBC for reservations. The tickets for March 31 and April 1 are now available at the Lionel Wendt Theatre.
Teaching students to be handi-capable
The Deaf and Blind School celebrates 100 years with a music show and a legacy of helping children grow up independent and ready to take life head on
By Aanya Wipulasena
Have you ever tried dancing without music or without any light? Well, they do and they play musical instruments too. This year they are getting ready to show their very special talents again. Celebrating 100 years since its inception, the Deaf and Blind School presents 'Siyawasaka Ridmaya', a concert where sight impaired and hearing impaired students perform on stage in perfect harmony on March 30 at the Ladies College Hall.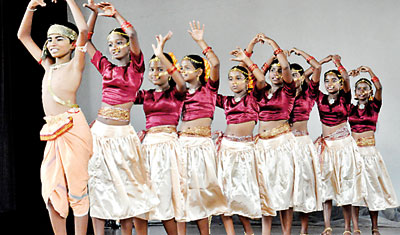 The children show their talent at a news conference held about the event. Pix by Susantha Liyanawatee
The children of the Deaf and Blind school have been practising hard for this annual concert but the sad part is "there's not much of an appreciative audience who are aware and come to spend that time with them," says principal of Ladies' College Nirmalie Wickremasinghe, who is on the Board of Trustees of the School for the Deaf and Blind urging people to support their talent. "Ladies College has had a long affiliation with the Deaf and Blind School. This year too the College will be with the Deaf and Blind School," she said, adding that these children shouldn't be objects of pity but people should come to see what they are really capable of.
"There are three Deaf and Blind schools in Sri Lanka. Two in Ratmalana, one each for the deaf children and the blind," explained Nimal Barathi, Chairman of the Executive Committee of the Board of Trustees. "There are 600 students in these schools and children from different religions come in as one," he said.
For all the sterling service it provides, the school is in need of funds. Their total budget is Rs. 79 million annually. "The government gives us Rs. 34 million and this includes the teachers' salaries. The Social Services Department also gives Rs. 50 monthly per child in the hostel," said Eksith Fernando who is the manager of the two Deaf and Blind schools in Ratmalana, stating that they have to find the rest from generous donors.
The children, despite their handicap, do the same syllabus followed in every other school. "Just like other children they follow the same syllabus and since 90% of them stay in hostels they don't go to any tuition classes to do extra studies," he said. Still some perform well enough to enter university.
The principal of the Blind school in Ratmalana, Sandya Koduruarachchi, said that children, aged three years and above, who are in need of special education are taken into the school and given all the necessary education as well as learning swimming, vocational training, sports, sewing, cooking and more. "They grow up, get married and lead happy lives," she said.
Tickets for Siyawasaka Ridmaya are available at Ladies'College and the Deaf and Blind Schools.