Dr. Ajit Abeysekera has been dreaming of establishing an orchestra made up entirely of wind instruments for nearly 20 years. Now, thanks to the sponsorship of the Dr. Earle de Fonseka Trust and the support of The Symphony Orchestra of Sri Lanka, The Colombo Wind Orchestra is getting ready to stage their inaugural concert. Consisting of only woodwind and brasswind instruments, this orchestra is a first for Sri Lanka, say the organisers.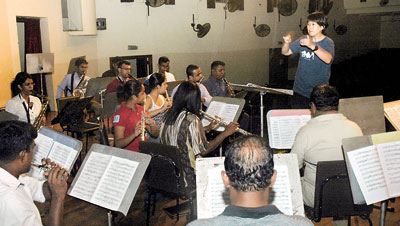 The orchestra rehearsing for the inaugural concert with Keiko Kobayashi as conducter. Pic by Saman Kariyawasam
The orchestra is conducted by Keiko Kobayashi, a frequent conductor of the Symphony Orchestra in Sri Lanka. She has come down from Japan especially to train the orchestra for the concert and to share her expertise on ensembles made up entirely of wind instruments.
Dr. Abeysekera, who will be playing the clarinet in the newly formed orchestra, is himself one of the Associate Conductors of the Symphony Orchestra of Sri Lanka. He explains that there is a specific repertoire devoted to wind orchestras that has gone largely unplayed and is consequently unknown in this country. Aside from the chance to introduce this music to the public, the orchestra is also pleased to afford many wind instrument players a chance to serve in an ensemble.
Coordinator Navin Fernando has done a lot of the groundwork in bringing together the 50 musicians who form the choir. Represented among them is the whole spectrum of wind instruments, from piccolo flutes to trombones. "It's really a glorious sound when all these instruments come together," says Dr. Abeysekera.
The music the orchestra will perform covers a wide range, from classical compositions to marching tunes and Latin American dance music. Also included are the works of two Japanese composers. The music will be easily accessible, says Dr. Abeysekera, adding that they are pleased that the balcony will be packed with 200 schoolchildren who have been invited to attend free of charge. Dr. Abeyskera shares his hope that the young musicians will be inspired by what they see.
For the musicians themselves, this will be a steep learning curve he says. Many who are used to playing solos or being one in a section of two, are learning to play in careful synchronisation with much larger groups for the first time. They're keeping their fingers crossed that the event will be a success.
They hope in time to make their concerts an annual event and to recruit new musicians to the orchestra.
The Colombo Wind Orchestra's Inaugural Concert will be held on March 24, at the Ladies' College Auditorium from 7 p.m onwards. Tickets are priced at Rs 1000, 750, 500 and 300 and are on sale at the Symphony Music Bookshop at 438/2, Havelock Road, Colombo 6.