The Lakshman Kadirgamar Institute for International Relations and Strategic Studies (LKIIRSS) signed a memorandum of understanding (MoU) for cooperation with the Indian Council of World Affairs (ICWA) at the Sapru House, New Delhi on the 9th of March, 2012.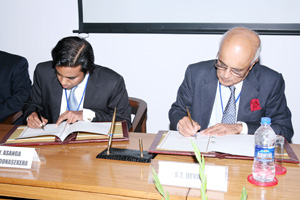 This is the Kadirgamar Institute's first MoU with an Indian think tank. The MoU was signed by Mr. S. T. Devare, Director General of the ICWA and Mr. Asanga Abeyagoonasekera, Executive Director of the Kadirgamar Institute, in the presence of Mr. Prasad Kariyawasam High Commissioner of Sri Lanka in New Delhi.
This event coincided with the two-day ICWA-AAS Asian Relations Conference "Transforming South Asia: Imperatives for Action" held on the 9th and 10th of March, 2012 at the prestigious Sapru House building in New Delhi. As a delegate from Sri Lanka at the conference, Mr. Asanga Abeyagoonasekera of the Kadirgamar Institute presented a paper on "South Asia: Overcoming Terror with A Regional Commitment to Peace".
The first Asian Relations Conference inspired by Pandit Jawaharlal Nehru was conducted by the ICWA in 1947 under the leadership of Mrs. Sarojini Naidu. This historic conference was addressed by Mahatma Gandhi. Since then numerous international conferences, meetings, and panel discussions have been organized by the ICWA at the Sapru House. The ICWA focussed exclusively on the study of international relations and foreign affairs, and publishes books, periodicals, journals, reviews, papers, and other literature on related subjects.