It has been just seven months since Sri Lankan student Mustansir Ameerali arrived in Indiana to begin his college adventure. If you ask Mustansir, he will admit that even after that short period of time, Valparaiso University and the town of Valparaiso, Indiana are beginning to feel like a second home. Mustansir describes his first few days settling in to campus as exciting and filled with action. He was welcomed by the International Programs staff, and met with his advisor in the College of Engineering to select the courses he would take as a first year student. In his residence hall he met American students from across the nation and International students from across the globe. Many of these students are now Mustansir's closest friends.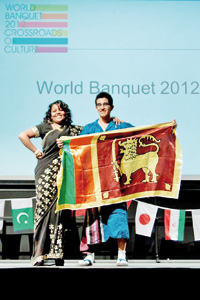 Mustansir Ameerali of Asian International School (AIS) reached Scholarships for USA (www.scholarshipsforusa.com) with a simple request; to find him an excellent engineering school in US with the best financial aid offer. Mustansir also confessed that his independent search for admissions & financial aid to US universities had ended up in failure wasting many months. SUSA wasted no time in getting many attractive offers from scores of US universities overnight and Musansir had no difficulty in selecting Valparaiso University in Indiana ranking among the top five universities in US Midwest and only an hour away from Chicago – third largest city in US promising many internship opportunities. Besides Valpo's amazing scholarship Mustansir was also offered attractive credit transfers for his Advanced Subsidiary and Advanced Levels. SUSA is delighted to share the success stories of many of its students and is committed, more than ever, to make US higher education increasingly accessible to the largest number of deserving Lankans.

Mustansir is both engaged and challenged in his classes at Valparaiso's College of Engineering. Ranked #27 amongst undergraduate Engineering programs by U.S. News & World Report, the College of Engineering boasts the exciting new Donald V. Fites Center for Engineering Innovation. The Fites Center, a nearly $13 million project, is an addition to the south of the Gellersen Engineering and Mathematics Center that covers 13,470 square feet, and is made up primarily of laboratory and learning space for undergraduate engineering students. This facility – designed to meet LEED certification standards – opened at the start of the 2011 academic year and was formally dedicated on October 29, 2011.
The new building is named after Donald V. Fites '56 CE, who is the retired chief executive officer and chairman of Caterpillar Inc. and a member of the Valparaiso University Board of Directors. Mr. Fites is one of the CoE's most successful graduates, and is someone many of our engineering alumni and in the University community have come to respect.
In addition to the College of Engineering, Valparaiso University is also home to over 70 academic programs within the College of Arts & Sciences, the College of Business, the College of Nursing, Christ College- The Honors College, and many graduate programs. Over 4,000 students study on Valparaiso's campus and participate in various activities such as community service, honor societies, and Division I athletics. Valparaiso is proud to have been consistently featured on Forbes, Washington Monthly, and Princeton Review rankings of American universities.
Valparaiso University continues a legacy of quality education that extends throughout a proud history of more than 150 years. And at Valparaiso, a student's personal journey extends beyond classrooms and books. A focus on learning through service and emphasis on broadening experiences help Valparaiso students develop into thoughtful leaders who work to make the world a better place. Located in northwest Indiana, Valparaiso students can get to nearby Chicago in less than an hour. Convenient commuter busses and trains in the area help make travel to the city and local airports easy for students.
Mustansir has certainly taken advantage of Valparaiso's excellent location, traveling to nearby cities with friends during holiday breaks. In addition to travel, Mustansir stays busy with his studies in the College of Engineering, and is involved with Valparaiso's International Student Association. The photo below features Mustansir and another Sri Lankan student at Valparaiso's annual World Banquet, where students showcase the foods, dress, and traditions of their various cultures.