The Institute of Personnel Management (IPM) Sri Lanka recently opened its new study center in Jaffna. The inauguration ceremony was held at the Jaffna Public Library Auditorium earlier this month. It was attended by Chief Guest, Mrs. R. Wijialudchumi, Chief Secretary, Northern Provincial Council; Guest of Honour, Professor P. Balasundarampillai, Former Vice Chancellor, University of Jaffna; Professor M. Nadarajasundaram, Former Dean, Faculty of Management Studies and Commerce, University of Jaffna, Prof G.Mikunthan, Professor of Agriculture Biology & Director of Career Guidance Unit, University of Jaffna, Mr. P. G. Tennakoon, Acting Chief Executive Officer, Air Vice Marshal E.G.J.P De Silva (Retd.), Director of Studies and Ms. S. Dharshiha, Programme Coordinator, Northern Region, of IPM and other dignitaries.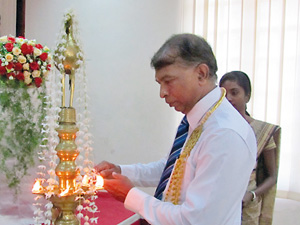 Lighting the oil lamp -Air Vice Marshal EGJ Prishantha De Silva, Director of Studies, IPM Sri Lanka
IPM's centre in Jaffna boasts of a well-qualified panel of lecturers, hailing from prestigious academic and industrial backgrounds. They are from prestigious university of Jaffna and reputed private and public sector organisations.
Commenting on the opening of IPM's new centre in Jaffna, the Institute's Acting CEO, Mr. P.G. Tennakoon stated, "IPM has always been committed towards creating a knowledge driven economy. We have continued to fulfil this mandate over the years, with our business school conducting the HR study programmes for over 2,500 individuals. Our centre in Jaffna is geared to offer the first three levels of the courses, and we foresee a bright future for IPM in the Northern Province."
The centre offers a variety of HR skills enhancement programmes such as: Programme in Career Guidance and Development (PCGD), Foundation Course in Human Resource Management (FCHRM) and Certificate Course in Human Resource Management (CCHRM). These preliminary, foundation and certificate courses are well-established in the industry and are designed to accommodate a varied student base, taking into consideration different educational qualifications and career goals. CCHRM course has already commenced in second week of March and yet to commence other two programmes in April, with the centre having already started to accept applications.
IPM was founded in 1959 and is a professional body incorporated by an Act of Parliament in 1976. IPM is affiliated to the Asia Pacific Federation of Human Resource Management and World Federation of Personnel Management Associations. IPM's mandate focuses on raising the standard and development of Human Resource management profession through a process of conducting professional study programmes, seminars/workshops, conferences. Moreover our strength relies on HR consultancy and research as well.