A young Music Researcher and Educator in the field of Western Music, Dr. Priyeshni Peiris Perera, was recently invited to deliver a Lecture-presentation on Performance of Music and Emotion at the '2011 Power of Music' conference at The University Of Western Australia (UWA), Perth, thus bringing international recognition to Sri Lanka, in the field of Music Performance & Research.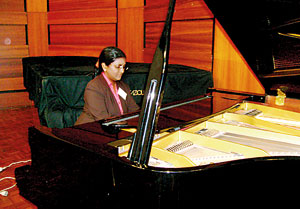 Dr. Priyeshni P. Perera Delivering a Presentation on "Teaching Musical Expression Through 20th Century Repertoire"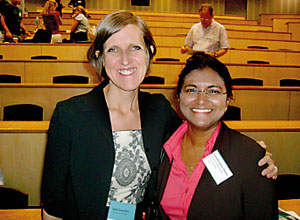 Dr. Priyeshni with Jane Davidson, the Chair & President of the Conference & Musicological Society of Australia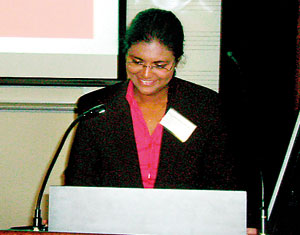 Dr. Priyeshni performing at the Conference
Dr. Priyeshni Peiris Perera, is a full-time lecturer of the Western Music Department at the University of Visual & Performing Arts, Colombo 7. Approximately 300 delegates from more than 30 countries around the world gathered at the "2011 Power of Music" conference, jointly collaborated by the Musicological Society of Australia and the International Conference on Music and Emotion. It was held from Dec 1- 4, 2011 at the UWA, Perth, where international experts (University professors in the fields of musicology, Music Therapy, Music and Emotion studies, Music theory, Ethno-Musicology, Psychology, Anthropology, Neuroscience, Aesthetics and Evolutionary Biology), presented their research in the form of spoken papers, lectures, workshops, and recitals.
Dr. Priyeshni P. Perera presented a lecture-recital hand–in-hand alongside scholars and professors from acclaimed Universities, such as The University of Cambridge (U.K), The Sydney Music Conservatorium, (University of Sydney) and the University of Illinois at Urbana-Champaign (U.S.A). Her presentation was titled, 'Teaching Emotional Expression to Music Students Utilizing Twentieth-Century Repertoire.' In this presentation, she demonstrated how a Psychological Model of the renowned Music Psychologist, Patrick Juslin's 'GERMS' model, can be used as a base to facilitate Musicians to effectively communicate Emotion when performing music. To underpin this argument, she demonstrated how this model can be used to create "expressive and emotional performances" in music by performing a wide array of 20th Century piano repertoire composed by reputed American and British composers.
Dr. Priyeshni P. Perera has previously held teaching appointments at the University of Tennessee (USA) and Texas Tech University (USA) where she has taught piano and music theory to undergraduates. In Sri Lanka, she supervises students in the Bachelors and Masters Degree programmes in Western Music and coaches upper-level undergraduates in Piano Performance, Music Research Methods, and Psychology of Music and Music Therapy courses. Dr. Perera returned to Sri Lanka after completing a Doctor of Musical Arts degree from Texas Tech University (USA) where she was awarded the 'AT & T Chancellors Fellowship' and the 'Texas Tech President's Fellowship for Outstanding Academic and Professional Achievement' to specialize in Music Education (Piano).
She's currently the only person in Sri Lanka to hold a Doctorate in Music Education (piano) as well as the highest professional qualification offered by the ABRSM (U.K); The Fellowship of the Royal Schools of Music, London (F.R.S.M – UK) in Piano Performance, for which she was self-trained. An eminent scholar and performer, Sri Lanka is yet to experience the wealth of knowledge and expertise she brings to her work as a performer, researcher and music educator.
The "2011 Power of Music Conference" demonstrated the growing interest in research into music's powerful social role and its inter-relationship with other fields such as Neuroscience, Psychology and Biology.
On a final note, a unique feature of the conference was, having several specialized focus sessions on Australian music, including several indigenous sessions with groups representing Perth, the Kimberley, Northern Territory and the Tiwi Islands. They showcased their traditional music in the form of songs and dances passed down to them by their ancestors.