Nature Trails, the dedicated Wildlife and Adventure Tourism Division at John Keells Hotels Group has once more taken the initiative in taking Sri Lanka's Wilds to the next level. This time it has worked towards strengthening Yala's positioning as a treasure trove for wildlife enthusiasts and especially concentrating on leopards (Pantheraparduskotiya).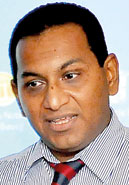 Chitral
Working with Ammonite, an independent film production company based in UK which also develops highly specialized equipment such as image intensified night vision cameras and motion control systems, the Nature Trails team assisted in creating an episode for the film series 'Nightstalkers' which is being telecast on the National Geographic Channel, globally.
Amongst Yala's multitude of wild animals, leopards have had a reputation of being secretively solitary. Cinematic technology used by Ammonite such as its latest starlight, thermal imaging techniques sheds light challenging this belief by penetrating the darkness to take audiences into the lives of the leopards and their surprisingly social escapades.
With special permission from the wildlife authorities and using no artificial lights, these cameras reveal the intelligent and playful side of Sri Lanka's prince of the jungle through footage of night-time hunting strategies, courting couples and family life, this film takes the audience on a Night safari in blazing Infra Red vision.
Brilliant cinematography using the latest technology the world has to offer, coupled with the expertise and guidance provided by the Nature Trails team headed by Chitral Jayatilake has indeed taken the Sri Lankan leopard to a world audience this winter through Nat Geo Wild.
'It was May 2010 when I received an inquiry from London on Yala's leopards. I soon began corresponding with a young producer at Ammonite, UK, on plans of making a leopard documentary at Yala focusing on their behaviour at night' Chitral said.
'47 days of filming at night had its rewards, 106 leopard sightings on 46 nights, eleven sloth bears, 5 rusty spotted cats, fourteen cobras and seven pythons along with countless elephants arriving to water at Gonagala and Heenwewa tanks, the awesome experience of driving at night observing Yala's nights come alive was more than we could imagine' he added.
Fourteen months later, the completed documentary aired worldwide has had tremendous reviews, capturing never-before-seen behaviour of the stealthiest cat of them all. Yala's leopards' cover of darkness had been broken through the best available technology and a team of men determined to observe, document and share the secret lives of leopards at night.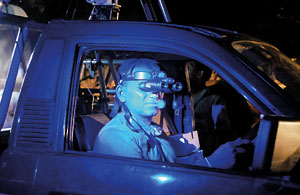 Night Vision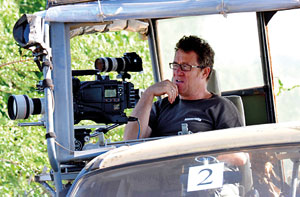 Waiting for big cats