The British Council Colombo has served as the educational bridge between Sri Lanka and the United Kingdom for some 60 years now, specializing in language studies, and strengthening educational and cultural exchange between the two nations. Now it is preparing to undergo a complete refurbishment.
The British Council in Sri Lanka has a library membership of 24,000, which makes it the largest library in the entire British Council global network. With more than 12,000 students learning English, over 2,000 teachers trained, and 34,000 examination candidates acquiring UK qualifications each year, the centre is teeming with educational activity. Thus the necessity to enhance their capacity was on the cards.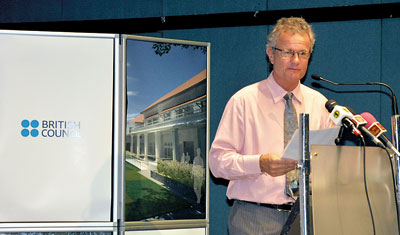 Country Director Tony Reilly speaking at the launch of the refurbishment project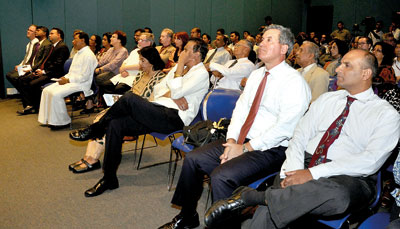 A section of the audience. Pix by Amila Prabodha
At the inauguration ceremony held last week, Country Director Tony Reilly said that the Rs.500 million allocated for the refurbishment is the single largest investment made by the British Council this year in any of the 105 countries it operates in, worldwide. "British Council in its present state stood the test of time for the past 60 years. But 'age' quite similar to animate beings, had taken its toll on the building. The decision to knock down the present building and make way for a better compound, was painful, but it had to be done," he said.
The major redevelopment project will be phased over two years to minimise disruption to customers and its operations. The new building will include a brand new state-of-the-art library, a new multi-purpose auditorium, an integrated customer services centre, and refurbished classrooms amongst other improvements. The library will be a major highlight as it will cater to the needs of the vast number of members. The multi-purpose auditorium is also a highlight of the project.
The BREEAM standard (Building Research Establishment's Environmental Assessment Method), will be used in the refurbishment project. "This standard is a UK-based rating system for green buildings which sets the standard for best practices in building design, construction and operation," Mr. Reilly added.
"This project is a vote of confidence in the British Council's cultural and educational programme in Sri Lanka. The redevelopment of the Colombo premises will strengthen our ability to deliver an even larger programme of activities and services."
Higher Education Minister S. B. Dissanayake inaugurated the project. While congratulating the British Council in its endeavours to promote English education in the country, the Minister also re-iterated the importance of English knowledge amongt the community. "Knowledge of English has a significant value when it comes to employment – it has become an unofficial necessity for all persons to be well equipped with sound English, thus it is with much pleasure that I inaugurate this major redevelopment project of the British Council's historic premises today," he said.
The inauguration of the refurbishment project was also tied up with the launch of 'Lakmahal, Colombo, Sri Lanka: 75 years of social change and political flux' by Prof. Rajiva Wijesinha. The book includes an account of his time at the British Council from 1984 to 1992. Prof Wijesinha said the book will delve into the illustrious past of the Council and all the good people it has been associated with. "I have tried to convey something of these experiences and many others in this book, and therefore what I say today, is not so much about people, but about place." Recalling his own experiences he quipped. "And as the world moves on, and time, with an intensity that makes the sleepy world before Duplication Road seem almost a dream, I venture to suggest that, even if attention need not be paid, memories should not fade without trace."