A Sri Lankan engineer is missing from a hospital in Saudi Arabia since mid December last year and his family members charge that local authorities are doing little to trace the man. B. W. Seneviratne 58, went missing from the King Fahd Hospital in Riyadh on December 18 after being admitted for treatment following a motor accident on November 16.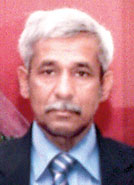 B. W. Seneviratne: The man who was to come home before Christmas is now missing
The hospital had later informed the family in Colombo that the patient may have walked out of the hospital as a result of memory loss and that the Saudi Police had been informed, the man's son, Madura Seneviratne told the Sunday Times.
"We have taken up the matter with the Sri Lanka Bureau of Foreign Employment (SLBFE) and the External Affairs Ministry. It is now over a month but the response has been poor," he said. "My father was employed at a construction company for the past 10 years and was planning to return home before Christmas when this happened. It is the duty of the authorities to do something to trace him, but sadly this is not happening," he added.
The family has also made representations to the National Union of Migrant Workers Sri Lanka (NUMS) and to the Association of Licensed Foreign Employment Agencies (ALFEA). NUMS secretary Palitha Athukorale said they have urged their union representatives in Saudi Arabia to take up the matter the authorities there.
"We will also be speaking to the SLBFE and the EAM to find out the progress made by them. It is their responsibility because the person involved here is a Sri Lankan expatriate worker," Mr. Athukorale added.
ALFEA Secretary Faizer Mackeen told the Sunday Times that they would inform the Saudi Chamber of Commerce which monitors the employment recruitment agencies in that country. He added that ALFEA representatives would shortly visit the man's home in Colombo to gather more details, such as the local recruiting agent and his Saudi employer.
"In such a case it is the EAM that should be in contact with the Lankan Mission in Riyadh and direct officials over there to take the matter up with the police and other relevant authorities," Mr. Mackeen said.
EAM Consular Affairs Chief W. M. S. Bandara told the Sunday Times that the Lankan Embassy in Riyadh had been instructed to follow the case and report back. He did not elaborate.