Kamalini de Silva who was appointed as the Secretary to the Justice Ministry will assume office on Monday. Mrs. de Silva who served as Additional Secretary was appointed to the post by President Mahinda Rajapaksa.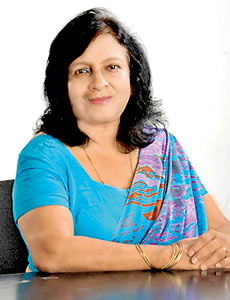 Kamalini De Silva
Mrs. De Silva a lawyer by profession joined the Justice Ministry as an Assistant Secretary in 1984.
During her career at the Justice Ministry she showed a commitment to the process of dispute resolution by mediation and was greatly responsible for making mediation an effective dispute resolution mechanism in Sri Lanka.
She was also responsible in the formulation of a government policy regarding matters related to the administration of justice and particularly in relation to access to justice and conflict resolution.
Mrs. de Silva has over the years also contributed to the conduct of legal literacy programmes for children and has worked specifically on child rights and protection issues. She has also negotiated on behalf of the Government of Sri Lanka on mutual legal assistance with several foreign governments.
She is presently a member of the Legal Aid Commission, National Child Protection Authority, National Tobacco and Alcohol, Authority, Prisons Licence Board and the National Task Force on Trafficking Human Beings. She also served as assistant editor of the Sri Lanka Law Reports and the "Justice" magazine published by the Justice Ministry.
She is an old girl of Vishaka Vidyalaya and took oaths as an Attorney-at-Law in 1977. She replaces Suhada Gamlath who will join the Attorney General's Department as an Additional Solicitor General.