Farmers of Thabowa-Thevanuwara in the Karuwalagaswewa Pradeshiya Sabha area in the Puttalam District are up in arms. They are angered at moves by the Department of Wild Life to take over 400 acres of prime land belonging to their community.
They say the move threatened their livelihood. G.M. Kumarasinghe of the Thabowa Farmers Association said for over 40 years, around 150 families had been living in the area. All of them are farmers by profession.
"Most of us possess title deeds to our proprties and therefore no one -- Department Wild Life or what ever has any right to throw us out. We will seek legal redress if that should happen", he said. He added the land in dispute was very fertile and a variety of crops ranging from paddy to an assortment of vegetables grew in abundance, which brought them a reasonable income.
All of a sudden the Department of Wild Life had begun planting boundary posts in the middle of their crops thus obstructing their work, he said. "We have jointly and separately sent letters to the relevant authorities as well as to President Mahinda Rajapaksa.
Unfortunately we have had no response and the Department of Wild Life continues to harass the people", Kumarasinghe lamented.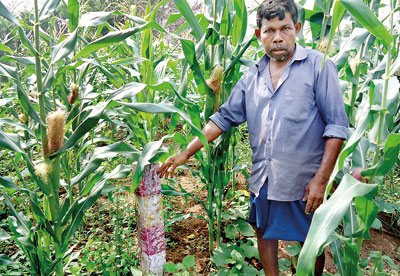 Posts erected in the midst of crops
Farmers harvesting their crop.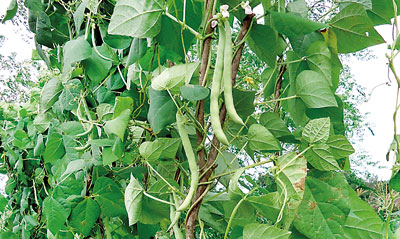 Even up country veges are aplenty.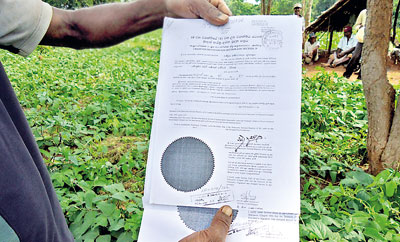 A farmer shows his deeds to the land.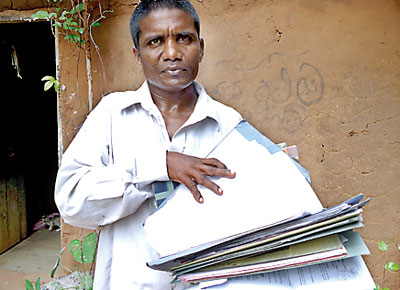 Kumarasinghe displays copies of letters sent to the authorities.