As part of Government efforts to control noise pollution, blaring of horns will soon be restricted, when the Central Environmental Authority (CEA) sets standards on maximum noise levels, CEA Chairman Charitha Herath told the Sunday Times.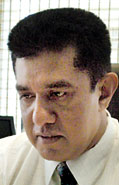 Charitha Herath
Environmental Minister Anura Priyadharshana Yapa will seek Cabinet approval for implementation of the standards set. "Once approval is granted, the necessary equipment would be in place to measure noise levels of horns, and the Police will be responsible for enforcing the laws," Mr Herath explained.
According to standards set, two levels of sounds will be measured– one at a two-metre distance away from the vehicle, to determine whether the sound of the horn violates the set standards. (See graphic for illustration).
However, the CEA has no immediate plans to bring any changes to community noise levels created by vendors of ice cream, bakery products and lottery tickets. Sounds caused by vendors have been of concern, particularly in the mornings, when people are woken up by sellers of bakery products, who use musical sounds to alert customers of their presence.
However, there are existing laws under which action could be taken against causing disturbance.But, Environmental Lawyer Ravindra Ruberu told the Sunday Times that, usually, handling of noise pollution cases has been a difficult task, as the offence has already been committed and no evidence available of it having occurred, when authorities move in to check the complaint.
"When there are musical shows, by the time the police come to investigate, the musical show is over," he said.
He said that the CEA's regional officers also need to be better equipped to handle investigations.
He said that people do not resort to legal action, also because, it has been difficult to prove some of the cases.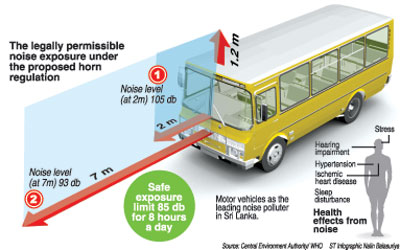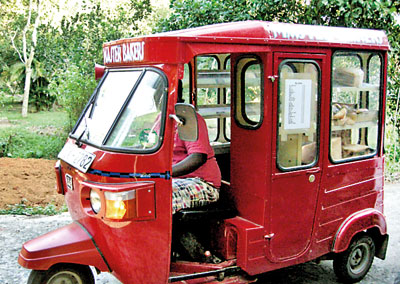 Morning sounds: People complain of being woken up by vehicles selling bakery products
A resident of Kandana, Samantha Silva told the Sunday Times that he had problems with those who come on sales rounds selling bakery products. "Usually, our one-year-old child sleeps during the afternoon. But, as our house is close to the road, the bakery produce seller who comes in a three-wheeler, plays music that disturbs the child's sleep at noon."
He said that he had personally appealed to the man to keep away, but after few days the problem had started again.