QUNU, South Africa, (AFP) - "Madiba", the man who rose from a cattle herd boy in the poor Eastern Cape to turn the tide of South African history, has returned to his childhood home -- this time maybe for good.
The frail, 93-year-old former president and Nobel Peace Prize winner Nelson Mandela is back in his beloved Qunu, which he left as a youngster in the 1920s to begin a journey that turned him into a global icon.
"Once you see the flags flying, then you know that he's there," said Zimsile Gamakulu, 45, who belongs to the same "Madiba" clan -- which gave Mandela his tribal name -- as his world-famous neighbour. The official flags wave in the breeze over the grassland hills dotted with simple homesteads and grazing animals, where this time the ageing statesman seems ready to stay.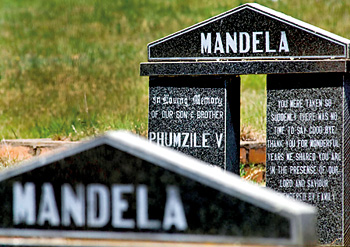 Graves in the Mandela family plot, in the village of Qunu, where the former South African President grew up and has returned for his retirement. AFP
His fellow villagers believe his return to the tightly guarded compound, which lies across a busy national road from his former home, is both fitting and permanent after a health scare in January sent the nation into a frenzy.
"I think he's come back for good because this is the (fourth) month now and it's been a long time he's been requesting to be brought back here," said Gamakulu, who leads walks from the Nelson Mandela Museum tracing his early footsteps.
"The tradition is that you don't abandon your own people, you always come back to your own people because we say you go back to your roots," he added. "That's what we were expecting actually. It would be strange for him to stay in Johannesburg." Mandela was born in nearby Mvezo but as a boy moved to Qunu, where his love of open spaces and nature grew while stick-fighting, drinking milk from cow udders, and sliding on his bum down a rock slope with other boys. Situated in the Eastern Cape where joblessness is rife, the village now has piped water, electricity and brick houses.
But life remains tough with gardens for homegrown food, simple stores selling basic goods, and dirt roads. It's a world apart from the plush Johannesburg suburb he calls home, yet word in the village is that Tata Madiba or Tatamkhulu -- meaning father and grandfather in Xhosa -- has no intention of leaving his rural retreat.
"The rumour says if someone tells about Joburg he says 'no'," said Ntombi Ntondini, 29, who works at the local community centre, referring to Johannesburg. "He doesn't want to go back. He said he wants to die here," she added.
Mandela has not made a public appearance since July 2010 and no longer leaves his tree-filled property which has two houses, including one modelled on his last prison house. "Now he's old, very old, and he doesn't have that energy to go around," said Ntondini, who says he is much loved in the village.
"He was the first black president in South Africa and we're very proud of him from being from the poor village like this." The village, made up 18 settlements, peddles no keepsakes in his image which has morphed into a lucrative brand elsewhere. But his legacy is celebrated at the museum bearing his name overlooking the hills.
"It's absolutely special, it's absolutely inspiring," the museum's boss Khwezi Mpumlwana said about working with Mandela 800 metres (yards) away. "All indications are that he is back home. He has always talked of Qunu as home," he added. "He's here for a long time and it seems for the long haul." Mandela receives visitors but remains firmly out of sight with a view of the gentle hills that he once criss-crossed as a boy and where he is regarded with immense pride as a homegrown hero but also as a fellow villager.
"We are not welcoming him as a famous person, we are welcoming as a man, just a neighbour," said Ntobeko Yozwa, 62, who wishes Mandela could take part in local gatherings. "It's hard to see Madiba because of security. It's not easy to go to Madiba and visit him but we are happy because he is here. Even when he is sick, we are happy he is at home."