If you fancied buying a gold-plated throne that's fit for a king's derriere, you would have to be pretty flush to afford it. At £129,000 (Rs. 22,786,500), it might be money down the pan but at least you would be the owner of a unique luxury loo.
It was unveiled at the 11th World Toilet Summit and Expo which, believe it or not, looks at ways of improving the planet's lavatories and sanitation.
The three-day convention in Haikou, China features 115 eco-friendly design entries from over 15 countries.
There are three themes this year -- 'Toilet Etiquette', 'Quality of Life', 'Health' and 'Tourism'. More than 2.5 billion people do not have access to clean loos.
A 16-year-old girl won an award for a design that made sure users would flush because only the flush button would unlock the toilet door.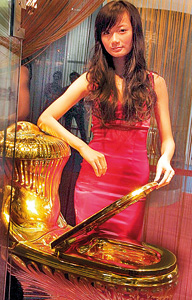 Seat of wealth: The gold-plated bowl unveiled at the Toilet Summit in China is worth £129,000
© Daily Mail, London