YAKKAGHUND, Pakistan, Nov 26 (Reuters) - NATO helicopters and fighter jets attacked two military outposts in northwest Pakistan today, killing as many as 28 troops and plunging U.S.-Pakistan relations, already deeply frayed, further into crisis.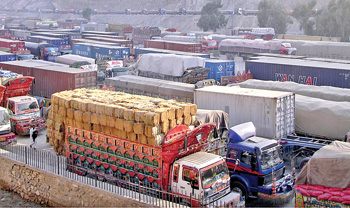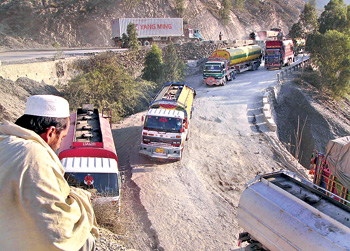 Cargo trucks, including those carrying supplies to NATO forces in Afghanistan, are seen halted along the Pakistan-Torkham border, after it was shut down to traffic yesterday. Reuters
Pakistan retaliated by shutting down vital NATO supply routes into Afghanistan, used for sending in just under a third of the alliance's supplies. The attack is the worst single incident of its kind since Pakistan uneasily allied itself with Washington in the days immediately following the Sept. 11, 2001 attacks on U.S. targets.
Relations between the United States and Pakistan, its ally in the war on militancy, have been strained following the killing of al Qaeda leader Osama bin Laden by U.S. special forces in a raid on the Pakistani garrison town of Abbottabad in May, which Pakistan called a flagrant violation of sovereignty.
A spokesman for NATO-led troops in Afghanistan confirmed that NATO aircraft had been called in to support troops in the area and had probably killed some Pakistani soldiers.
"Close air support was called in, in the development of the tactical situation, and it is what highly likely caused the Pakistan casualties," said General Carsten Jacobson, spokesman for the International Security Assistance Force (ISAF).
He added that he could not confirm the number of casualties, but ISAF is investigating the "tragic development". "We are aware that Pakistani soldiers perished. We don't know the size, the magnitude," he said.
The Pakistani government and military brimmed with fury. "This is an attack on Pakistan's sovereignty," said Prime Minister Yusuf Raza Gilani. "We will not let any harm come to Pakistan's sovereignty and solidarity."
The Foreign Office said it would take up the matter "in the strongest terms" with NATO and the United States. The powerful Chief of Army Staff, General Ashfaq Pervez Kayani, said in a statement issued by the Pakistani military that "all necessary steps be under taken for an effective response to this irresponsible act.
"A strong protest has been launched with NATO/ISAF in which it has been demanded that strong and urgent action be taken against those responsible for this aggression." Two military officials said that up to 28 troops had been killed and 11 wounded in the attack on the outposts, about 2.5 km (1.5 miles) from the Afghan border. The Pakistani military said 24 troops were killed and 13 wounded.
It remains unclear what exactly happened, but the attack took place around 2 a.m. (2100 GMT) in the Baizai area of Mohmand, where Pakistani troops are fighting Taliban militants. "Pakistani troops effectively responded immediately in self-defence to NATO/ISAF's aggression with all available weapons," the Pakistani military statement said.
The commander of NATO-led forces in Afghanistan, General John R. Allen, said he had offered his condolences to the family of any Pakistani soldiers who "may have been killed or injured".
The U.S. embassy in Islamabad also offered condolences.
"The latest attack by NATO forces on our post will have serious repercussions as they without any reasons attacked on our post and killed soldiers asleep," said a senior Pakistani military officer, requesting anonymity.