The Colombo Crimes Division (CCD) and the Kollupitiya Police have opened parallel investigations into the 'temple' run by two Japanese monks, who collected millions of rupees offering 'Nirvana'.
Two persons who allegedly collected money have been told to report to the Kollupitiya police for an investigation, while the CCD were in the process of recording statements from those who claimed they had been swindled.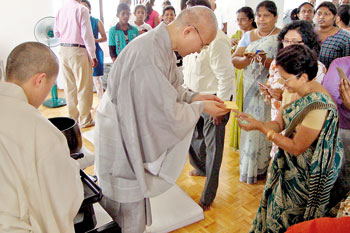 The monks accepting offerings of money from devotees at the 'temple' in Liberty Plaza
The CCD was investigating the modus operandi of a Japanese monk and his Japanese female accomplice monk. The Kollupitiya police are also investigating an allegation of sexual abuse of an 18-year-old devotee at the 'temple' situated at Liberty Plaza, and closed down by the Police last week.
Colombo DIG Anura Senanayake told the Sunday Times that the 'temple' has been closed until investigations are completed.
He said police were probing whether there was misappropriation of money, and whether, in the guise of operating a 'temple', there were any cases of abuse. As investigations got under way, at least 10 persons have turned up to lodge complaints of paying large sums of money and believe they have been cheated.
A teacher from the Kalutara district told the Sunday Times that she had paid up to Rs. 7 million as donations, but now believes that she was cheated by the so-called monks. The teacher, N. Lalani said she had started visiting the temple after she lost her son in the 2004 tsunami.
She said that, whenever any person refused to pay money, they were told that they would fall ill or suffer some loss, so that the people kept on making donations. Police said investigations revealed that about 700 persons had registered and had paid large sums of money as donations.
| | |
| --- | --- |
| | |
| Devotees praying at the 'temple' | Lalani prays at a shrine in her home. |