United People Freedom Alliance (UPFA) candidate for the coveted post of Mayor of Colombo, Milinda Moragoda, who is in the midst of a hectic campaign in the city, spoke to the Sunday Times on why people should give him the opportunity to serve as the Mayor of the country's biggest and most populous local government body.
The one-time UNP member said people should look at the programme presented by him and make their choice. "This is not a beauty contest," he said.
Excerpts:
Did you join the SLFP merely to contest the Colombo mayoralty?
I joined the government, along with Karu Jayasuriya, to support the President at that time. Soon after that, I formed my own party, the Ceylon National Congress. When I was in the UNP too, some used to criticise me, saying I never wore a green shirt. I always wear white, because, for me, a political party is not a tribe. For me, patronage associated with politics is one reason this country has not been able to develop. The crudest form of it I have seen is that, to get a child into school, you need a letter from the Member of Parliament (MP), regardless of which party has governed this country.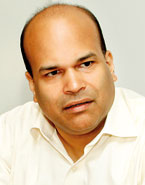 The election for CMC is not a beauty contest: Moragoda.
Pic by Indika Handuwala
That is why I am not judgmental of any party, because that has been the culture. When the President invited me to contest election as the mayoral candidate, as he/she is nominated by the SLFP, as it's the biggest partner in the coalition, he said he would like me to be the candidate. I was not ready, in a way, to go back into politics, as I was helping him in other ways through my foundation. I felt I was able to do public service in a different way outside politics.
But the President wanted me to make the city a role model. Outside the north and east, Colombo suffered most in the war. The city is traumatized, so he asked me to take the lead and work with him. He asked me to join the SLFP, while retaining my identity. Now I am member of the SLPF, but my vision and policies remain the same, while I am able to present them within the framework of the SLFP.
You were once in the UNP, and you hope to win some UNP votes and SLFP votes, isn't this
opportunistic politics?
I don't look at votes. I look at people, when I think of a vote, I think of a face properly, a woman living in a 'watta' (a shanty area) who comes and asks me to do something about the drug menace in the city.. Those are the images I have before me. M.H. Mohamed told me of some of the election pledges he made around 1962.
These include homes for shanty dwellers, lighting, etc. Two or three generations later, these issues remain. I am not blaming the UNP or anyone. It is the culture. What I am saying is, give us four years, and if it can't make a difference, vote us out. But give us the opportunity. Have the confidence. We want to make a difference. That is the message we want to give.
You were defeated in the 2010 general elections for a seat in the Colombo District from the Government coalition. What is your take on winning this time?
If I want to take shortcuts, I would have done the last election differently. The President gave me several options. To politicians, my ideas may seem naïve, they may seem eccentric, but I have to go according to my conscience.
We have not seen many SLFP or Cabinet stalwarts throwing their weight for your election. Why is that?
The President has spoken and Namal Rajapaksa is helping with the sports side. We want to have a sports programme for the youth, but at the end of the day, my campaign is very grassroot oriented, and I just talk to the people. I don't have big meetings. Even for a meeting, I have around 100-150 people, and we have interactive sessions.
There is a disconnect between what politicians say on stage and what the needs of the people are. I think, they come to political meetings for entertainment. I don't see myself as an entertainer. I know my limitations. What I want to do is make a difference, and I know I can do it. The political culture in the municipality is an old culture, and it has to de modernised.
Why should the people of Colombo vote for you as their Mayor?
First, I have presented a programme. I have always seen politics as a public service, and that is why I entered politics from the business world, when I originally took the decision. Each time I have gone before the people. Sometimes I have succeeded, others I have failed. The decision should go beyond individuals and onto our programme.
As I see it, this is not a beauty contest. The municipality is a service providing organisation. The people have to decide who has the better programme and who is the better individual to implement that programme. We also believe that the central government is important to any programme. The Mayor has two roles. One, to ensure that citizens receive the services they expect, and the other to act as a link between the city and the central government.
If elected, will you implement the Defence Ministry/Urban Development Authority (UDA) plans for Colombo, or will you have your own programme?
We will work together. The Defence Secretary and I have always had a dialogue from my time as Justice Minister. We have discussed plans. There is a synergy and the roles are complementary. The municipality will provide the grassroots democratic interface to this process. We haven't had a functioning municipality for four years. The municipality cannot go on a solo journey. It has to work with the central government for resources and support.
The President and the Defence Secretary have agreed to a formulation where the Mayor will chair a committee from all the different areas, where cooperation should take place. This is why the President was keen that somebody like me should become Mayor, because you need stature to lead a team like that. I see a seamless relationship taking place. It's not only the Defence Ministry, but also the provincial government.
You have said there will be Right to Information (RTI) in Colombo under your watch as
Mayor. How is this possible, when the government has no national policy in enacting a RTI law?

If you look at India, the idea started at the grassroots level. This is part of our plan to make Colombo the Centre of Excellence. One of the areas is transparency. I have been consistent. In my 2010 election campaign, I pledged to adopt and implement Freedom of Information legislation. Here I am talking of a more limited mandate. We can take as an example, how stalls in markets or municipal apartments are handed out in the municipality.
The tradition has been straight political patronage, and no one has questioned it. We will start there by being transparent. It's easy for me. It is in my election manifesto. At the grassroots, when peoples start seeing this, it can snowball potentially. I am pragmatic in this. You have to start somewhere, and you take it step by step.
Is your election to Mayor, a stepping stone to re-enter Parliament?
A: I have served in Parliament for nine years and in relatively senior ministries. I was a Cabinet minister at a relatively young age. This is an opportunity for me to do something practical and directly relevant to the people. I enjoyed the work in Parliament, but this, I feel, is where I can make a real difference. I have not thought beyond what I would do after the next four years, if I am elected Mayor.