The Group Accountant of a multinational company told the Colombo High Court (Commercial) this week that his company had paid commissions worth hundreds of thousands of US dollars to a Swiss bank account of Mohamed Maharoof, a businessman based in Colombo and one-time Colombo District MP (UNP).
Mr. Robert Locher, Group Accountant of Marine Cement of Zurich, Switzerland was giving evidence in a money claim made by Mr. Maharoof to the value of Rs. 528 million. During examination Mr. Locher was questioned by the Attorney-at-Law for Marine Cement whether he had given commissions to Mr. Maharoof and what happened to the commissions.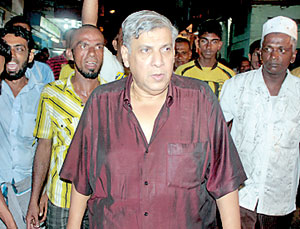 Maharoof on the campaign trail for the CMC poll in Panchikawatte yesterday. Pic by Nilan Maligaspe
Mr. Locher produced his company's accounts which showed that commissions to Mr. Maharoof' were paid into a bank account at Credit Suisse in Zurich. Under cross examination he was asked if Marine Cement had paid these commissions to which Mr. Locher said 'yes', and later went on to give details of payment.
Mr. Maharoof is claiming US $ 4,792,500 from Marine Cement in Switzerland saying that he was instrumental in negotiating with the Government of Sri Lanka in order for Marine Cement Ltd. to obtain more shares in the local company known as Lafarge Mahaweli Cement (Private) Ltd.
The case was taken up before Colombo High Court Judge Mahinda Samayawardena. Mr. Maharoof says after successful negotiations conducted by him and on behalf of Marine Cement Ltd., they were able to purchase more shares in the local company.
His plaint said that ultimately Marine Cement had become the owner of approximately 85 per cent of shares of Lafarge Mahaweli Cement Private Ltd. due to his negotiations. Mr. Maharoof claimed that however an agreement reached later for the payment of US $1.50 per metric ton to him on cement sold by Lafarge Mahaweli Cement Private Ltd. had been breached. He was claiming US $ 4.7 million as dues.
Attorney-at-Law Anura Medagoda instructed by Varners Law Associates appeared for Marine Cement of Switzerland while Attorney-at-Law Farman Cassim instructed by Samararatna Associates appeared for Mr. Maharoof.