Sri Lanka's local government sector has been increasingly targetted by hackers in the post war era while the country's financial institutions have also proved to be a growing target, particularly in the past two months. The latter resulting in millions of rupees being lost, according to DCS International Director Shihan Annon. When queried about the source of this information, he revealed it was based on DCS's own analysts' research.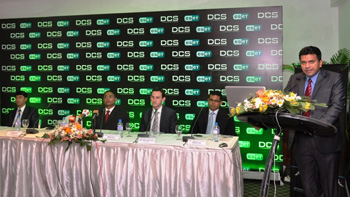 From left- Mohammed Amir, Channel Manager (APAC) – Eset, Ilham Sanoon, Director, - DCS International (Pvt) Ltd, John Laloussis - Sales Manager (APAC). – Eset and Shihan Annon, Director - DCS International ( Pvt) Ltd. Nabhan Akeel, Director - DCS International ( Pvt) Ltd seen speaking at the conference.
Further, the local representive for Bratislava-based Anti Virus (AV) company ESET, DCS also stated that ESET has been at the "forefront" of developing software for Sri Lanka-specific viruses such as "Mahasona" and "Reeriyaka" which it said were "made to spread mainly through removable devices such as pen drives, memory cards, etc. and are activated through the autorun.inf file in the removable drive."
Additionally, comments by Mr. Annon have pointed to DCS's current involvement with the government's Sri Lanka Computer Emergency Response Team (SLCERT). This is to develop a special device named "Honey Pot" which he identified as being used to "detect Sri Lankan malware density."
Meanwhile, according to Julian Sanoon, a Director of DCS's parent Digital House, a 20-year, Rs. 1.2 billion turnover computer peripherals importer and seller, in its first year of officially entering the local market ESET has grown its market share by 200% mostly through corporate channel solutions providers. This has resulted in ESET capturing a 12% stake of the Sri Lankan market, as per reports by international IT researcher Gartner. He noted these figures while speaking at a local media launch of ESET's Smart Security 5 and NOD32 Antivirus 5, which have been priced starting from about Rs. 1,800 per licence.
Mr. Sanoon also anticipated a "steady" growth resulting in 25% market share by year's end. He also revealed that, for 2012, the plan was to rent out security Software-as-a-Service (SaaS) locally as well as accessing schools, rural and the university student audiences. He also indicated that there were plans in place to sign an agreement with one of the country's mobile commuications providers to offer ESET protection for mobile devices. Additionally, responding to a media query, he also noted that ESET planned on releasing protection for Google's Android mobile operating system by next year.