The popular Exporters' Forum has been revived, once again "After nearly two years, the Export Development Board (EDB) has once again organized the Exporters' Forum. Most of the problems faced by the exporters cannot be solved by one institution alone. It requires the joint efforts of several institutions. The exporters' forum is one such effort by the EDB towards such a coordinated attempt," according to Rishad Bathiudeen, Minister of Industry and Commerce.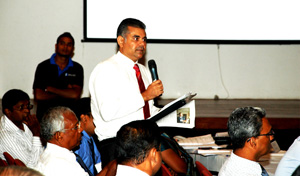 An exporter raises an issue at the meeting
He made this comment at the start of the Forum on September 27 at the EDB Premises in Colombo. This is the first Exporters' Forum under the new minister, a statement from his Ministry said.
The session which continued beyond two hours saw full attendance from the private sector, exporters, chambers, various advisory committees and top government Ministries and departments, with their consensus that it was a productive exchange of ideas.
More than 40 private sector export firms were present to make their representations. Among them were Finlays Colombo PLC, Haycarb PLC, Akbar Brothers, and Coco Lanka Ltd. Among the various export and industry chambers were the National Chamber of Exporters of Sri Lanka, Association of Container Operators, Ceylon Chamber of Commerce, Sri Lanka Association of Manufacturers & Exporters of Rubber Products, Sri Lanka Food Processors' Association, Floriculture Produce Exporters' Association, Fruit and Vegetable Exporters' Association, and Sri Lanka Seafood Exporters' Association.
During the session, Minister Bathiudeen assured the exports community on the pending Export Development Rewards Scheme (EDRS) payments. "We are awaiting for the response from the Treasury for our EDRS requests."
The statement said the Forum took due note of the air freight rates issue. Some exporters expressed that air freight rates charged by SriLankan Airlines are higher than rates of some other airlines.
The representative from SriLankan responded saying that for cargo exceeding 500 Kg the rate is at $ 1.91 to Europe. "However, if cargo is sent to Amsterdam, trucking charges are slapped on our exporters which pushes their costs higher," he said. "Therefore SriLankan is unable to guarantee a price reduction for Amsterdam," he added.
The National Gem & Jewellery Authority revealed to the gem and jewellery exporters that it has already requested the removal of lapidary custom duties and impose a new tax scheme to safeguard the domestic Gem & Jewellery sector. The lapidary exporters said that decline in domestic gem production has led to supply shortages of stones domestically leading to increased rough gem imports from abroad.
"We becoming a gem value addition centre rather than a gem production centre," noted Nawrooz Azmi, Associate Secretary of the Sri Lanka Gem and Jewellery Association. The Forum also took due note of request to simplify the Temporary Importation for Export Processing Scheme (TIEP) schemes.
It was voiced that the small and medium exporters feel that the cost of compliance to the scheme is too high and also not sufficiently designed to accommodate multiproduct exporters.