Foreign investment hasn't picked up in Sri Lanka in the post-war period because according to international surveys the climate for business and investment hasn't improved, the US Ambassador Patricia Butenis said this week.
"Attracting international investment is a tough game, and investors don't put their money into a country because they are nice or because the country is emerging from a war. They invest where they can make money," she told the annual general meeting of American Chamber of Commerce in Sri Lanka (AMCHAM) held on Thursday in Colombo.
US-Sri Lanka trade talks next month
AMCHAM President Vijaya Ratnayake, re-elected for the new term, said the chamber would be assisting its members and the Department of Commerce in close consultation with the US Embassy in Colombo when the 9th TIFA (trade) talks resume in November this year in Washington DC.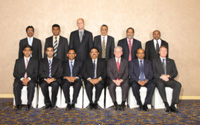 Picture: Seated from left: Asanka Ratnayake (Director), Nikhil Hirdaramani (Director) Prasath Nanayakkara (Vice President), Vijaya Ratnayake (President), Glen Rase (Treasurer), Suren Rajanathan (Director ), Charles Fowler ( US Embassy Representative). Standing from left: Manjula Dissanayake (Director), Talib Sanoon (Director), Rudolf Troestler (Director), Aslam Omar (Director), Rajendra Theagarajah (Director), H.A Rodrigo (Director). Not in the picture: Nimal Cooke (Secretary), James Yamanaka (Director)
He said there are two important projects that have almost been finalized and are about to be signed and concluded - one in the field of tourism and the other on a special financial facility being offered to US companies and companies with a certain percentage of US equity operating in Sri Lanka to begin new projects or develop existing projects.
The newly appointed AMCHAM Board of Directors for 2011/2012 comprises - Vijaya Ratnayake – President (CEO/MD - Zodiac Medicals (Pvt)Ltd; Prasath Nanayakkara – Vice President – (Global Head of Enterprise Automation – Virtusa (Pvt) Ltd); Nimal Cooke – Secretary (Executive Director – The Capital Maharaja Organisation Ltd); Glen Rase – Treasurer (CEO – Citibank NA); Nikhil Hirdaramani – Director (Director – Hirdaramani Group); Asanka Ratnayake – Director (Director – Mountain Hawk(FedEx); Talib Sanoon – Director (Leader, Corporate Affairs & People Recources – North Manufacturing (Pvt) Ltd); James Yamanaka – Director (MD/CEO – Ceylon Tobacco Company); Suren Rajanathan – Director (Vice President – 3M Lanka (Pvt) Ltd); Manjula Dissanayake – Director (Vice President – Zone 24x7 (Pvt) Ltd); Rajendra Theagarajah – Director(MD/CEO – Hatton National Bank Ltd); Aslam Omar – Director (MD – American & Effird Lanka (Pvt) Ltd); Herman Rodrigo – Director (Director – R-Pac Lanka (Pvt) Ltd); Rudolf Troestler – Director (GM – Hilton Colombo); and Charles Fowler – US Embassy Representative.
Speaking on 'AMCHAM role in developing Post-Conflict Sri Lanka', the Ambassador said the country has a golden opportunity to build a robust economy that brings economic opportunity to all its people, and 'thus ameliorate one of the root causes of the conflict'.
While repeating some of the encouraging growth figures in tourism and per capita, she said the government needs the support of the private sector in transforming the economy. "The private sector has a key role, since you know the trends in your businesses and see the changes in the markets much sooner than the government."
She said investment hasn't been as strong as one would expect. "Why hasn't there been more domestic and foreign investment? That is a great question, and we get asked that by government officials and private sector leaders alike. In my opinion, there are a couple of reasons. One is time.
It takes time for Sri Lanka's image to change and for investors, especially international investors, to realize and find the tremendous opportunities here in Sri Lanka," she said, adding that the other was the investment climate.
A World Bank annual survey on the ease of doing business in 2010, ranked Sri Lanka in 102th place, behind most of its regional competitors. Similarly, Sri Lanka ranks 91st worldwide in the Transparency International index of corruption, and this issue inhibits foreign investment, particularly from the United States, she said.
" Sri Lanka is behind regional competitors in other key indicators such as international tourist arrivals, exports as a percentage of GDP, and new business registrations. I know that Sri Lanka did improve its ranking in the Global Competitiveness Report, but most business people we talk to say that there is still more work to be done. The Government of Sri Lanka understands that, and senior policymakers have said that Sri Lanka will raise its game, moving ahead on areas such as infrastructure and tax reform," she added.
The Ambassador also said in Sri Lanka economic development and political reconciliation must go hand in hand. A great deal has been done to resettle the IDPs, reintegrate the economies of the north and east, and agricultural production and fish catch in the north and east have risen sharply.
"But I think about what more could be achieved with full political reconciliation, where every Sri Lankan feels that they have a full stake in the country and where potential foreign investors have confidence in the continued political stability of the country," she said, adding that the overseas Diaspora has a tremendous reservoir of skills and financial resources that could contribute so much to rebuilding Sri Lanka.
"Their skills and overseas connections are just as important, and they can help propel Sri Lanka to the new level of development we all want." Pointing out to the huge trade deficit the US has with Sri Lanka (importing over $1.7 billion in Sri Lankan goods and exporting only $180 million in goods to Sri Lanka in 2010), Ms Butenis said they were looking to ensure a more equitable balance.
President Barrack Obama launched the National Export Initiative to double U.S. exports in the next five years and Sri Lanka is on the special list of countries where the American ambassador is supposed to deliver. She said with some stepped up efforts, US exports to Sri Lanka have increased by over 40% so far this year.