Sri Lanka's The Fortress Resort and Spa based in Koggala won a number of trophies at the coveted World Luxury Hotel Awards 2011 held in Croatia last week which included the accolade for world's Best Luxury Coastal Hotel.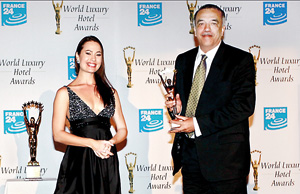 Picture shows Mr Jan van Twest receiving the award
The hotel company said it also walked away with the premier Luxury Coastal Hotel in Sri Lanka award at the star-studded event. The prizes were received on behalf of The Fortress by its General Manager, Jan van Twest.
Established in 2006, the WLHA are viewed by many as the world's most prestigious awards insofar as only exceptional hotels, lodges and resorts operating within a luxury niche market are allowed to participate.
According to Sumith Adhihetty, Managing Director of The Fortress, 'This international recognition for the Fortress Resort reinforces the Sri Lankan luxury sector as amongst the best in the world. We are profoundly honoured to receive these awards - especially considering that The Fortress is still relatively young. It confirms our ongoing and passionate response to the demands of our evolving clientele.'
This was a reference to The Fortress' other recent initiatives, the first being the launch of a Butler Service which saw a batch of 15 internationally-trained butlers placed on the service menu following a gruelling 4 week programme held by the Australian Butler School.
The second saw nearby Koggala Lake effectively transformed into a landing spot for the Sri Lankan Air Taxi Service through whom The Fortress has arranged exclusive flights on behalf of its guests.