This is the woman who has made medical history - by giving birth to identical triplets whilst suffering from cystic fibrosis. Kandace Smith, from South Louisiana, U.S. was told by doctors to terminate the dangerous triplet pregnancy as they didn't think she was going to survive.
People with the lung disease cystic fibrosis have a shortened life expectancy and any pregnancy is dangerous because of the extra pressure it puts on the lungs. But Miss Smith, 20, bravely refused, and carried on with the world-first pregnancy, even though it meant risking her own life.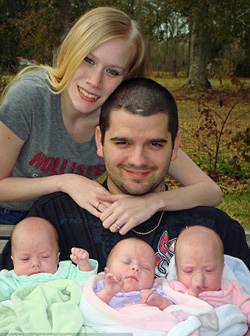 Delighted: Kandace Smith and her fiancee Steven Bowers with their newborn triplets
She managed to carry the babies for 28 weeks until her lung function started to fail and they were delivered by doctors at Tulane-Lakeside Hospital in October. Miss Smith said: 'I couldn't believe that I was actually pregnant, and when the scan showed there were three heartbeats I nearly passed out.'I didn't actually believe it was possible - and there were three babies in my womb.'
Miss Smith, who lives with her fiancé Steven Bowers, 21, was born with the condition that affects 9000 people in the UK. Sufferers need to carry out daily physiotherapy to help clear their lungs of thick mucus.
She said: 'I've always had such a problem putting on any weight, I only weigh just over six stone, and I didn't think I could actually fall pregnant.
'When I discovered I was pregnant, I was in shock anyway. But a week later a scan showed I was pregnant with twins, and then another scan later showed it was triplets. 'We had only just got used to the fact that we were having twins, so to be told that it was actually triplets was even more shocking.'
Doctors were so worried about Miss Smith's life, that they recommended that she have a termination. Having a baby is risky for someone with cystic fibrosis because it puts extra pressure on the lungs.
She said: 'They told me that to have a termination would be better as it would make sure that I survived.
'But I was determined. I knew that it was going to be difficult and risky for me, but I wanted to take that risk. I had never thought it was possible that I could ever be a mum, so I wanted to have that chance.'
She was monitored closely throughout the pregnancy and she had daily medication to help her fight to stay alive. And she also had medication to stop her delivering the babies too soon.
Obstetrician Gabriella Pridjian, from Tulane-Lakeside Hospital, said: 'We were very concerned that her lung function wouldn't be able to tolerate the triplet pregnancy. 'And if we had to deliver the babies early, they may not have been at a gestational age where they would live.'
During the pregnancy Miss Smith's breathing slowly worsened until she was 28 weeks pregnant in August last year, and doctors carried out an emergency caesarean as they didn't think she was going to survive.
Miss Smith said: 'My breathing got worse and worse and eventually it got so bad that they didn't think I was going to make it. So even though the babies were tiny, they needed to deliver them. 'I was so worried about them because they were being born so early. I just had to pray that they would all survive.'
The identical girls, Brooklyn, Savannah and Dakota, all weighed 2Ib each, and after three months the couple were finally allowed to bring them home in January this year. Miss Smith said: 'They did so well, we were both really proud of them.
They may have been tiny, but they were little fighters too. None of them needed to go on a ventilator after they were born and initial tests have shown they are healthy. 'We have brought they home and they are doing really well.'
The babies have all been tested for cystic fibrosis, and although they are carriers of the rogue gene that causes the disease, none of them appears to have the illness themselves. Miss Smith added: 'It has been the hardest fight of my life - but it has been worth every second. I would have died for my girls if I'd had to.'
It is the first known case of its kind in the world, for a woman with cystic fibrosis to give birth to triplets, and the case is set to be reported in scientific journals. A spokeswoman for the Cystic Fibrosis Trust said: 'We have never come across a case where a woman with cystic fibrosis has given birth to triplets.'Pregnancy is a strain on the body anyway, but for a person with cystic fibrosis it can be life threatening because of the extra pressure on the lungs. And with triplets, that risk is trebled.'
(©Daily Mail, London)