'Mother tongue' is not a coincidental phrase -- people have long imagined that the close bond between mother and child meant that children acquire language from their mothers, not their fathers.
But a new study has found that the opposite may be true -- and the reason is often down to violent invasion.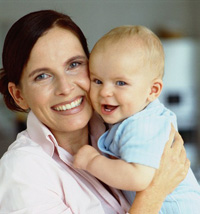 Bonded by blood: But historically, babies have always been more likely to end up speaking the language their father speaks, says a new study
Throughout history it is men -- from Viking invaders battling their way into new areas to pioneering farmers taking wives -- who have made the biggest impact on the spoken word. Scientists investigated male and female genetic markers from several thousand communities to study patterns of prehistoric language transmission.
They found that what language is spoken by a community largely depends on the arrival of men, whether through the migration of pioneering farmers or military invasion. From Scandinavian Vikings pillaging British shores to African, Indian and Polynesian tribes, the same trend was seen around the world.
'It may be that during colonisation episodes by emigrating agriculturists, men generally outnumber women in the pioneering groups and take wives from the local community,' said Professor Colin Renfrew, from Cambridge University.
'When the parents have different linguistic backgrounds, it may often be the language of the father which is dominant within the family group.' Prof Renfrew and Cambridge colleague Dr Peter Forster reported their findings in the journal Science. They pointed out that historically men have been more likely to father children with several different mothers than vice versa - and this helps their native tongues to spread.
The Mongol warlord Genghis Khan is famously believed to have fathered hundreds of children in the lands he conquered. His offspring would have been more likely to speak his language than their mothers' -- not because Genghis stayed behind to nurture them, but because an occupying force would have spread his language behind him.
One of the most striking examples of the pattern was evident in New Guinea, said the scientists. In prehistoric times, colonising Polynesians encountered resident Melanesians in New Guinea and the neighbouring Admiralty islands. Today, the New Guinea coast contains pockets of Polynesian-speaking regions separated by areas where Melanesian is spoken.
Levels of mitochondrial DNA -- a female genetic marker only carried down the female line -- is similar all along the coast, regardless of language. But levels of the male Y chromosome strongly correlate with the presence of Polynesian languages. Similar findings have emerged in the Indian sub-continent and the Americas.
Dr Forster said: 'Whether in European, Indian, Chinese or other languages, the expression 'mother tongue' and its concept is firmly embedded in popular imagination -- perhaps this is the reason why for so many years the role of fathers, or more likely, specific groups of successful males, in determining prehistoric language switches has not been recognised by geneticists.'
© Daily Mail, London