A former British Rail cleaner has been declared the new president of Zambia. Michael Sata, 74, was sworn on Friday as head of the southern African state. The populist former opposition leader entered politics after an early career spent working as a platform cleaner and porter for Britain's nationalised rail company.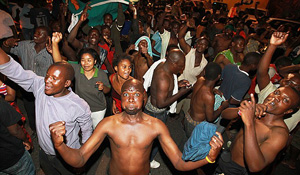 Locals celebrate in Lusaka early this morning after opposition leader Michal Sata was declared Zambia's new president
But in the early hours of this morning it was confirmed he would now take the highest office in his native Zambia after beating the country's incumbent president Rupiah Banda in a tense election.
Mr Sata's victory was declared shortly after midnight by Zambia's chief justice Ernest Sakala.
Election officials later said the opposition leader had won around 43 per cent of the vote, with Banda claiming just 36 percent.
The results represented a devastating defeat for Banda, whose Movement for Multi-party Democracy party had ruled Zambia since 1991. But local media reported scenes of celebration for the victory won by Mr Sata, whose energetic campaign appealed to the millions of poor Zambians who feel neglected amid recent economic growth in the developing nation.
Mr Sata's presidential victory follows a long and varied career, which included stints as a British Rail porter in London's Victoria Station and as an assembly worker in several British factories. The new president has rarely spoken about his time in the UK, but is known to have travelled to London after being born in 1936 the British protectorate of Northern Rhodesia.
The devout Catholic, a father of eight, later worked for many years as a policeman before entering politics shortly before Zambia won its independence in 1964 and serving during the 1980s as a councillor in the Zambian capital Lusaka.
He served as a minister in the twilight years of Zambia's first post-colonial government under the country's Independence president Kenneth Kaunda. But Mr Sata resigned his post in 1991 to join the MMD and served as an MP under Banda for a decade.
He left the ruling party in 2001 to form the opposition Patriotic Front. Many analysts have attributed the party's election victory to Mr Sata's populist campaigning and clear vision for the future of Zambia.
The outspoken figure is nicknamed King Cobra for his sharp tongue but toned down his verbal excesses in the run up to the polls.
Instead he argued that Zambians should expect a fairer share of the wealth being generated as the country enjoys huge growth off the back of extensive copper riches. He also tapped into a popular anti-China feeling and has hinted he will reduce ties with the Asian giant.
His campaign was further boosted by subtle populist touches, such as his well-publicised claim to avoid bottled water as a symbol of unity with Zambia's poorest who are still denied access to a clean supply.
However despite Mr Sata's popularity on the street, some experts have expressed concern over what might be expected under his rule.
The firebrand figure is a known ally of Zimbabwean president Robert Mugabe and has raised eyebrows by publicly backing the neighbouring despot's controversial land reclamation policies.He has also been accused of lacking substance and of winning support with a string of easy promises to Zambia's disillusioned masses.
© Daily Mail, London