ISLAMABAD, Sept. 24 (Reuters) - Pakistan has warned the United States it risks losing an ally if it keeps accusing Islamabad of playing a double game in the war against militancy, escalating the crisis in relations between the two countries.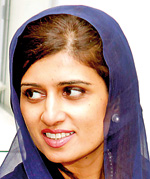 Foreign Minister Khar: US cannot afford to alienate Pakistan
Foreign Minister Hina Rabbani Khar was responding to comments by the U.S. Joint Chiefs of Staff Chairman Mike Mullen, who said Pakistan's top spy agency supported attacks on the U.S. Embassy and other targets by the Haqqani network, the most violent and effective faction among Islamist Taliban militants in Afghanistan.
It is the most serious allegation leveled by the United States against nuclear-armed, Muslim-majority Pakistan since they began an alliance in the "war on terrorism" a decade ago. "You will lose an ally," Khar told Geo TV in New York in remarks broadcast on Friday. "You cannot afford to alienate Pakistan; you cannot afford to alienate the Pakistani people." The White House on Friday reiterated its call for Pakistan to cut its ties to the Haqqani network and shut down safe havens on the Afghanistan-Pakistan border.
"It is critical that the government of Pakistan break any links they have, and take strong and immediate action against this network so that they are no longer a threat to the United States or to the people of Pakistan, because this network is a threat to both," White House spokesman Jay Carney said.
Admiral Mullen, speaking in the Senate on Thursday, alleged Haqqani operatives launched the bold attack last week on the Kabul embassy with the support of Pakistan's military intelligence.
The charges came amid mounting exasperation in Washington as the Obama administration struggles to curb militancy in Pakistan and end the long war in Afghanistan. Pakistan's Army Chief Ashfaq Parvez Kayani rejected Mullen's comments as "very unfortunate and not based on facts."
"Singling out Pakistan is neither fair nor productive," he said, according to a military statement released.
The tensions could have repercussions across Asia, from India, Pakistan's economically booming archrival, to China, which has edged closer to Pakistan in recent years.
A complete break between the United States and Pakistan -- sometimes friends, often adversaries -- seems unlikely, if only because Washington depends on Pakistan for supply routes to U.S. troops fighting militants in Afghanistan, and as a base for unmanned U.S. drones. Pakistan relies on Washington for military and economic aid and for acting as a backer on the world stage.
"The message for America is: 'They can't live with us, they can't live without us," said Prime Minister Yusuf Raza Gilani. But support in the U.S. Congress for curbing assistance or making conditions on aid more stringent is rising rapidly.
A Senate committee voted this week to make conditioning of U.S. assistance to Pakistan more rigorous and conditioned on its cooperation in fighting militants such as the Haqqani network."We are going to have to have an agonizing reappraisal of our relationship, and obviously amounts of aid and conditions on aid are going to be part of it," said John McCain, a senior Republican senator and 2008 Republican presidential candidate.
Before the Kabul attack, relations were starting to recover from the unilateral U.S. raid into Pakistan that killed al Qaeda leader Osama bin Laden in May. The dangers could be enormous if Washington and Pakistan, a largely dysfunctional state teeming with Islamist militants and run by a weak, military-cowed government, fail to arrest the deterioration in relations.
At stake are the fight against terrorism, the security of Pakistan's nuclear arsenal and -- as Islamabad plays off its friendship with China against the United States -- regional stability.The United States has long pressed Pakistan to go after the Haqqani network, which it believes operates from sanctuaries in North Waziristan on the Afghan border.
Pakistan says its army is too stretched fighting its own Taliban insurgency. But analysts say the Islamabad government regards the Haqqanis as a way to exert its influence on any future political settlement in Afghanistan.
Where the Pakistani military will not or cannot go, the Obama administration has increased the tempo of drone strikes on militants with tacit, wary backing from Islamabad. Yet the strikes are yet another thorn as Pakistani officials fret about being seen as taking orders from the West.
On Friday, intelligence officials in Pakistan said a suspected U.S. drone fired two missiles at a house in North Waziristan tribal region, killing at least three militants. The area is not associated with the Haqqani network, which Mullen told senators was a "veritable arm" of Pakistan's Inter-Services Intelligence agency, or ISI.
Mullen, CIA Director David Petraeus and Secretary of State Hillary Clinton all have met with their Pakistani counterparts in recent days to demand Islamabad take action against the Haqqani network.
Any Pakistani offensive against the Haqqanis would be risky. The group has an estimated 10,000 to 15,000 seasoned fighters at its disposal and analysts say the Pakistani army would likely suffer heavy casualties.
Mahmud Durrani, a retired major general and former Pakistani ambassador to Washington, said both sides should ease tensions to avoid American military action beyond drone strikes or economic sanctions. "There's a possibility. It's wide open. But it will be absolutely, totally disastrous."