"Where's the money for women's human rights?" The working day has barely begun, but already Anisha Chugh and Naadira Hassen are asking the important questions. The two women are representatives of the South Asian Women's Fund – an organisation that was launched with a one million dollar grant from the Ford Foundation in 2003.
Working with women in Sri Lanka, India, Bangladesh, Nepal and Pakistan, SAWF has its headquarters in Colombo. For much of their history they've seen themselves purely as a donor agency, says Anisha, explaining that this is about to change. A concert called 'Voices: Blurring the Boundaries' featuring 'Raaga to Bollywood' by Indian violinist Sunita Bhuyan and 'Feelings of Percussion' by Hikkaduwa drum ensemble Elephant Foot is an indication of this strategic shift – they're not just distributing funds, they want to raise them as well.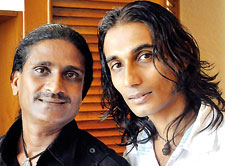 Lal and Dasun from Elephant Foot. Pic by Mangala Weerasekera
The organization estimates that since their inception they have provided small grants to over 60 women's groups engaged with a diverse number of issues including reproductive health, safe migration, trafficking, livelihoods and violence against women, with a particular focus on women trapped in conflict ridden zones.
In Sri Lanka, the organisation has worked closely with the likes of The Free Media Movement, Muslim Women's Research and Action Forum (MWRAF), Da Bindu Collective and Alliance Lanka. It's also worth noting that the organisation has senior women activists leading its team – beginning with Executive Director and human rights lawyer Tulika Srivastava.
Finding new ways to generate these resources is something SAWF has begun to focus on, but it's not just about raising funds, it's about raising awareness too. "We need to make some noise and we thought we'd start with the country of our birth," they tell me, explaining that the funds will go to support women's organisations and activists in Sri Lanka.
Now raising noise is something that Elephant Foot (www.elephantfootsrilanka.com) do on a regular basis. The band's six members all hail primarily from the South and they say their music is inspired by the rich multicultural environment of Hikkaduwa. The ensemble are led by Lal Priyanka. Though he is the third in his family to take up the instrument, he says his style is far from traditional. Sitting in the lobby of the Taj Samudra, Lal explains that his music isn't something that can be learnt in a school or identified as belonging to a specific tradition, instead it's a profoundly personal concoction – a signature beat.
Part of their success seems to hinge on their close ties between members –three of them are actually related and the others count themselves brothers anyway. Together, they have released two albums – Dalu in 2005 followed by Rainforest in 2008. They borrow instruments from cultures all over the world, band member Dasun Fernando tells me, referring to Cuban and Australian instruments. Lal has also inherited the skill of hand making his own drums (they call one such set the cocas because they are made with coconut wood) which Dasun finishes and paints lovingly. Everything comes together in a live performance. These are best when unscripted, says Dasun, explaining that they are the result of the spontaneous interaction between the various members of the band and their instruments.
Audiences will have a chance to judge for themselves. At 'Voices' Elephant Foot will play several of their own compositions, some of which are new. The culmination is to be a fusion performance with Sunita Bhuyan – a pairing that band member Dasun Fernando likens to the mingling of earth and fire. The two have been exchanging melodies and ideas in preparation.
'Voices: Blurring the Boundaries' is on September 11 from 6 p.m. to 8:30 p.m. at the Taj Samudra, Crystal Ballroom. Sponsors are Taj Samudra, Great Place to work India Institute, UniLever and LMD magazine. For tickets call-2690992, 0776953192.