The Joint Apparel Association Forum (JAAF) last month launched a campaign to address the challenges it has been facing to overcome negative perceptions about the industry, increase levels of recruitment and retention to meet the challenge of a growing international demand, combat demand pull from other employment opportunities.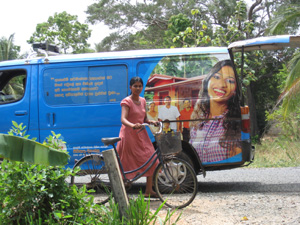 The roadshow vehicle
The campaign, conceptualized and executed by Bates 141 and Strategic Alliance PR uses a grassroots roadshow which travels from district-to-district, village-to-village, and door-to-door, creating awareness about job opportunities in the industry, educating potential employees and their families about the many benefits of working in this industry, while registering prospective employees through a novel post-card based job application, according to a JAAF press release.
The roadshow, manned by a team of promoters and HR personnel from the factories in the district, utilizes vans which are taken to the villages and rural areas. They provide information on the industry's unique benefits which include the opportunity to work while living at home, obtain transportation to and from the workplace and receive free medical services and meals. The educators answer questions about the industry, dispel misconceptions and reassure families, and disseminate information leaflets and postcards that can be filled by those who decide to seek a job.
"For the first time, the campaign has involved members of the apparel workforce as educators, models and brand ambassadors as its promotional face, bringing greater involvement, credibility and effectiveness to the campaign. They correctly frame the industry to its potential recruits as one that is both employee-friendly and rewarding," the statement added.
The campaign has its branded container truck with a band to back up the singers that provides a travelling stage and musical set-up for the roadshow. Each 'Apparel Star', whether discovered quietly on the factory work floor or publicly on stage represents the versatile, determined and driven nature of the women and men who bring meaning and pride to the label 'Apparel Made in Sri Lanka'. The campaign commenced in the Puttalam District in June, progressed to Anuradhapura in July and moved to Kurunegala this month.