Sri Lanka will be taking its seat as a judge at the international contest held to select Mr. Earth 2011, a male pageant scheduled for this October. Prasanna Pathmanathan was selected by the international pageant organizers to participate as one of the seven juries to judge the contest while also appointing him as the National Director for Sri Lanka to nominate the Mr. Sri Lanka 2011 for Mr. Earth 2011.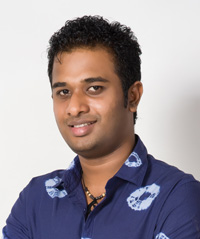 Prasanna Pathmanathan
Having taken an interest in the fashion industry at a young age, Mr. Pathmanathan has been styling for photo shoots and understood the potential available. In this respect, he had previously conducted about two fashion design contests titled "Flamboyance", and "Chokolate Mother and Daughter".
Commenting on the task ahead and the potential for the modeling industry in Sri Lanka, he said there is a need to ensure that models are groomed well and fashion shows to not just become a centre for entertainment and is a serious business that requires government support to forge ahead.
Mr. Pathmanathan's job at the international pageant will be to study the contestants for about 10 days while talking to them and marking them on their every aspect, he said. This level of selection is also required at the local level, he said adding however that due to lack of funding they were unable to currently carry this out in Sri Lanka.
With the availability of young designers, Mr. Pathmanathan said they are also working on nominating a contestant from Sri Lanka as there will not be a pageant due to low budget. Currently the female to male ratio of models in the Sri Lankan market are 60:40, he said adding that this is also because there is limited work and a thorough training is required for them, which is highly lacking.
Mr. Pathmanathan is currently working as the Head of Marketing at Cameron Pale and Medina. Starting out at 23 to become the chief editor of the first online magazine of South Asia's "Agora" in 2009, his interest in fashion diverted his attention towards fashion journalism his education has been in IT earning a BA in Information Systems with Business Management from Westminster University, UK.
Right now, he is reading for his degree in psychology as well as working as an lecturer for undergraduate studies at the Informatics Institute of Technology (IIT). He also conducts career guidance workshops, etiquette trainings and motivational and counseling programmes.