The Korean government has ensured ease of gaining improved employment opportunities when job seekers return home for its overseas workers including Sri Lankans. Towards this end, Sri Lankan workers will be able to not simply find skilled employment upon returning home but also find a job while still working in Korea or upon arrival in Colombo. Sri Lankan youth en masse opt to work in Korea with the number of employment opportunities for this year numbering 9,300. In 2010, Korea recruited 5,300 Sri Lankan workers.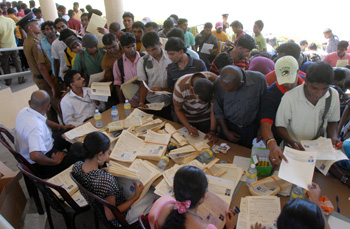 Applicants for Korean jobs at Police Park. Pic by Sanka Vidanagama
The issuance of a career certificate via the Internet is now possible for those returning to Colombo after their work time in Korea, the Korean Human Resources Development, Employment Permit System (EPS) Director Kim Kyun - Hyun told the Business Times.
He noted that this would allow for unskilled workers seeking employment in Korea to return home and obtain a job as a skilled person. Previously, workers had to visit a job centre in each region during their stay in Korea to obtain the career certificate however today this is possible via www.eps.go.kr in order to get re-employed in Sri Lanka. The Korean government has to date issued 95 certificates during the second half of 2010 and 175 in the first half of this year.
It was pointed out that workers are able to still apply for the certificate by individually visiting the regional offices of HRD Korea during their time of employment there or through the Employment Permit System (EPS) centre in their home country.
According to a press release, Korean Employment and Labour Deputy Minister Lee Jae-Kap notes this to be a service that aims to let EPS workers gain employment with ease upon returning to their home country. Further, Korea will also provide occupational skill and set up business training programmes for EPS returnees in Sri Lanka.
Job fair in Seoul
HRD Korea is organising a 2011 Global Job Fair in Seoul in October with the sponsorship of Employment and Labour Ministry, Foreign Affairs and Trade Ministry, Korea Tourism Organisation, International Contractors Association of Korea, Industrial Bank of Korea. Participating at the event will be over 200 companies from Asia, America, Europe and around the world.
Mr. Kyun - Hyun said they were right now in search of Sri Lankan companies willing to participate at the job fair. This organization provides a one stop service for overseas employment ranging from counseling, registration, contact, interviews, employment contracts, and departure for job seekers in professions that are in high demand overseas such as IT, business, marketing, accounting, medicine, construction and machinery.
The Korean language proficiency test will be held on October 8-9 which job seekers need to pass in order to qualify for work in Korea. In 2010, around 30,000 Sri Lankans had applied for the test and the number is expected to increase this year. The Korean government will only be selecting 9,300 persons from the highest scorers of more than 80 points out of 200 points.
Job seekers will be allowed to sit the test from the centres in Ampara, Anuradhapura, Badulla, Batticaloa, Colombo, Galle, Gampaha, Hambantota, Jaffna, Kalutara, Kandy, Kegalle, Kurunegala, Mannar, Matale, Matara, Moneragala, Nuwara Eliya, Polonnaruwa, Puttalam, Ratnapura, Trincomalee and Vavuniya.