Born and raised at Imaduwa, a little village in Kodagoda, Chef Nihal Senanayake grew up with the traditions of the South, living and experiencing the coastal cuisine of Galle. With Avurudu approaching it's a special time for him as he recalls his childhood memories which are full of the sights, sounds and smells of the 'Aluth Avurudda'.
For Nihal, the Executive Chef at the Jetwing Lighthouse Hotel in Galle, the New Year is a time when he becomes nostalgic, a time of reminiscence and joy. "I grew up with one brother and two sisters. We were a big family and we were in a village. The greatest time of the year for the villagers is the Sinhala and Tamil New year. It's a time when they all come together and everything else is forgotten."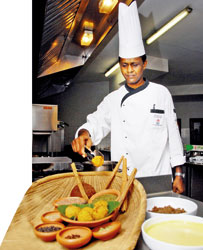 Pix by Sanka Vidanagama
"Avurudu was the best time of the year for me too, it was the holidays," he says recalling his young days. "We played and ate all the food that was made. It is still a special occasion for me because of the memories I hold," explains Chef Nihal while recalling the memories of his mother and sisters making Kevum and Kokis and other sweet meats. "My brothers and I use to always play on the Onchillawa (swing). Relatives and neighbors use to visit us and we would visited them in turn. Now I am married with three kids and we still follow all the Avurudu traditions and I think they enjoy it as much as I did."
Food being a big part of our customs and culture, Chef Nihal explains that Sri Lankans be they from the village or the city consider food as a way of appreciating and welcoming others, adding that a lot of heart goes into the cooking. "Nobody leaves empty handed when they visit someone. People serve something that is made at home," says Nihal. "Usually, even the customary tea that is served is made at home."
The array of food at any Avurudu table exhibits a warm and hospitable feel. Biting into a kewum (oil cake)you find a bit of the spirit of Avurudu nestled within. Robert Claesson, the General Manager of Lighthouse Hotel also speaks of the local food culture. For him it will be his first Avurudu experience in Sri Lanka.
"The Sri Lankan food traditions are wonderful. It's not like western food where you are served on a plate. Sri Lankan food is not meant to be eaten alone. It's meant to be shared. Characteristically it is a communal thing. Even when the rice paddy is harvested, the meal is shared. People come together over food. They enjoy their food because it blends in nicely with the setting," he said.
Deciding to become a chef as a youngster was difficult explains Nihal, as he had to convince his parents. "Cooking to them didn't mean much as a career choice. At that time when I said I wanted to be a Chef they didn't understand. Cooking as a profession was difficult for them to come to terms with, but now they are very proud and happy about the choices I've made." Chef Nihal says he did not study to become a chef. Instead, experience and commitment has taken him to where he is now. "My creativity and skills are mostly self-taught with the help of professionals," said the smiling Chef.
"After my schooling was over I wanted to learn something new, something different about cooking. I wanted to take it up professionally. So I joined the Berjaya Hotel at Mount Lavinia as a trainee cook and worked under Chef Ananda Yapa."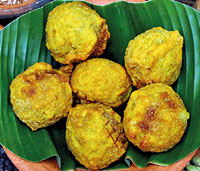 Naran Kevum
Later he joined the Galadari in 1984 when it opened , it was known as the Meridian then. There he was a senior cook and worked with French chefs for nine and a half years. Having travelled and worked in Dubai for two years and returned to the Meridian.
Then the Lighthouse Hotel was set up fourteen years ago, in 1997 Chef Nihal was part of the first team and began his career here as the Sous Chef and was second in command. "After three years I was promoted to the post of Executive Chef and I have been here since."
Mr. Claesson also speaks of the amazing talent of Chef Nihal Senanayake. "He is one of the most aspiring Chefs I have seen. It's great to see the way he cooks. Always so eager to learn and share his knowledge. Always involved and very much a part of the Lighthouse Hotel."
The Jetwing Group is also the patron of the Go-Sri Lanka project. When asked about the programme Nihal discussed its purpose. "We believe in the traditions and customs of our elders. They have secrets that we have forgotten. The Go Sri Lanka programme researches indigenous culinary ingredients. We travel to rural villages like Deniyaya and talk to people who still use a variety of spices that we hardly use nowadays.
We ask them to teach us their recipes using the herbs and spices handpicked from their own backyards like Hal, Beraliya and Gonika," he says. The hotel incorporates their cooking traditions in the menus as well. "We learn so much from these people, things that we didn't know."
Naran Kevum
Chef Nihal Senanayake's special Avurudu recipe from the South. Naran Kewum (refers to the shape of the sweet meat)
Ingredients
Kithul Jaggery Naran Kevum
Ingredients for filling
50g Green Gram Flour
100g lightly roasted Red Rice Flour
50g Jaggery
100g Grated Coconut
2 nos Cardamon
2 pods Cloves
2g Cinnamon
2g Sweet Cumin
Ingredients for batter
200ml Coconut Milk
½ tsp Tumaric Powder
200ml Rice Flour
1Li Coconut Oil for frying
Method
Melt the jaggery in a pot. Add grated coconut and spices. Mix well.

Then add lightly roasted red rice flour and green gram flour preparing a thick paste.

From this mixture make 50g size balls.

To prepare the patter first put the rice flour and turmeric powder into a bowl and make a batter
by adding coconut milk till you get the right consistency.

Dip the jagerry balls in the batter and deep fry in the heated coconut oil until golden brown.

The finished Naran Kewum should have a crispy outer shell.

Serve and enjoy at your Avurudu table.